Nigeria Seeks Double Foreign Investment Amid Dollar Shortage
Trade Minister Enelamah targets $10-20 billion annual FDI

Nigeria's ease of doing business rank has dropped in decade
Nigeria wants to double long-term foreign investment to at least $10 billion annually as the economy of Africa's biggest oil producer suffers under a plunge in crude prices and a shortage of foreign exchange, said Okechukwu Enelamah, the country's trade minister.
Enelamah is in talks with local and international investors to improve the West African nation's business environment and bring in foreign direct investment of about $10 billion to $20 billion a year, he said in an interview on Thursday in Lagos, the commercial capital, without giving a time line for the target. That would be more than double 2014's $4.6 billion, which dropped 16 percent from the previous year, according to World Bank data.
"We are doing everything possible to attract FDI," he said. "That's the minimum range we need going forward."
Nigeria has dropped 75 places over the past decade to 169th out of 189 countries ranked in the World Bank's Ease of Doing business 2016 report. In addition to issues such as inadequate power supply and the complexity of paying taxes, the central bank has pegged the naira's official rate for almost a year at 197-199 per dollar by restricting foreign exchange for certain imports in a bid to stave off inflation and conserve reserves.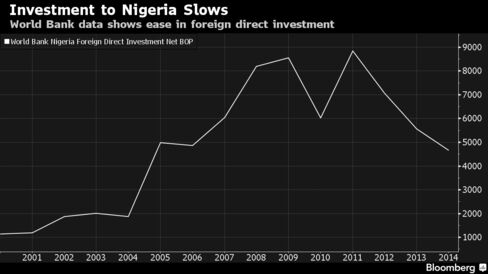 Those currency controls have suffocated businesses in the import-dependent economy and have widened the spread between the official naira rate and its black market equivalent, which reached a record-low 390 per dollar on Thursday.
"There is no way the government is going to convince investors to put their money in the economy when there are glaring issues to address in the short term, which the government has so far shown an unwillingness to tackle," said Manji Cheto, a London-based analyst at Teneo Intelligence.
In January, South Africa's Truworths International Ltd. closed its two remaining Nigerian stores as it struggled to import stock and take money out of the country, Chief Executive Officer Michael Mark said in an interview on Friday. Meanwhile, its dollar-denominated rent soared as both the naira and the rand weakened against the U.S. currency. He said the Johannesburg-based chain would return to Africa's biggest economy if things changed.
The currency restrictions led to the exclusion last year of the country's bonds from JPMorgan Chase & Co.'s local currency emerging-market indexes, with portfolio flows falling by 60 percent over 2015, according to the Nigeria's National Bureau of Statistics. Enelamah said such investments were short-term and Nigeria would focus on attracting long-term finance.
'Tall Order'
"It's laudable, but it's going to be a tall order," Bismarck Rewane, chief executive officer of Lagos-based consultancy Financial Derivatives Co., said by phone. "FDI is also sensitive to the exchange rate so the exchange-rate issue needs to be resolved and both FDI and foreign portfolio investment will come in."
Enelamah said he is working with the World Bank to improve its ease of doing business ranking as economic growth probably slowed to 3 percent last year, the slowest this century, according to Nigeria's statistics agency. The price of Brent crude, the equivalent of Nigeria's Bonny Light which provided about two-thirds of government revenue and 95 percent of its export proceeds in 2014, has dropped 44 percent in the past year.
"Our economic growth was not based on as much of a solid foundation as we would like, that is why it's also fleeting," Enelamah said. "We are working with foreign investors proactively and we're also trying to bring them in as part of the foreign exchange supply problem."
The minister said he'd be "disappointed" if Nigeria didn't rank among the top 100 countries for doing business within the next four years.
Before it's here, it's on the Bloomberg Terminal.
LEARN MORE