Ubisoft Takes 3-Year Plan to Investors Amid Vivendi Faceoff
Video-game maker hosts London meeting for investors Thursday

Forecast 60 percent sales growth, doubled margin by March 2019
French video-game maker Ubisoft Entertainment said it'll grow sales by 60 percent and almost double its operating margin within three years as the creator of Assassin's Creed tries to fight off a takeover by media giant Vivendi SA.
Revenue will be 2.2 billion euros ($2.4 billion) with an operating margin of 20 percent in the fiscal year to March 2019, Ubisoft forecast on Thursday. That compares with the 1.36 billion euros in sales and 11 percent in operating margin the company has said it'll reach in the year ending this quarter.
The company's stock gained 9.3 percent to 21.96 euros at 2:15 p.m. in Paris Thursday. It's down about 18 percent so far this year.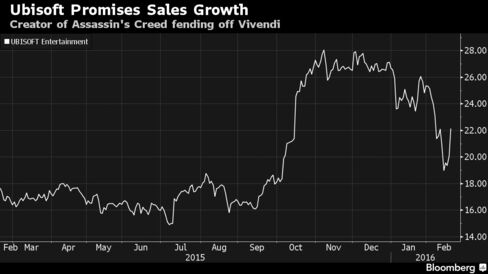 The game-maker founded by Yves Guillemot is meeting with investors in London Thursday to discuss strategy. They're likely to ask about Ubisoft's plans to counter an unsolicited approach from Vivendi, which has built a 15 percent stake and said it wants to exert influence.
"To reach our three-year plan, we need to remain independent -- we're going to tell investors that today," Finance Chief Alain Martinez said during a call with reporters. "For the moment, we don't see what Vivendi could bring."
Ubisoft cut its full-year forecasts on Feb. 11 and said it won't issue a new edition of blockbuster Assassin's Creed in 2016-2017, sending its shares plunging.
Before it's here, it's on the Bloomberg Terminal.
LEARN MORE