Stocks Erode Weekly Gain as Oil Falls; Treasuries Drop After CPI
S&P 500 erases losses as technology, financial shares lead

Core U.S. consumer prices rise by most in over four years
Stocks worldwide trimmed weekly gains as oil declined for the first time in three days, denting optimism that this year's rout in commodities was easing.
An index of global equities fell for the first time in six days, bringing an end to a rally fueled by the first signs that producers may consider steps to rein in a record crude glut. The Standard & Poor's 500 Index erased declines as consumer, technology and financial shares rebounded, as the benchmark gauge ended little changed. Treasuries fell after a report showed the cost of living in the U.S. excluding food and fuel increased by the most since 2011, reinforcing the Federal Reserve's message that inflation will rise toward its target. Oil dropped below $30 a barrel.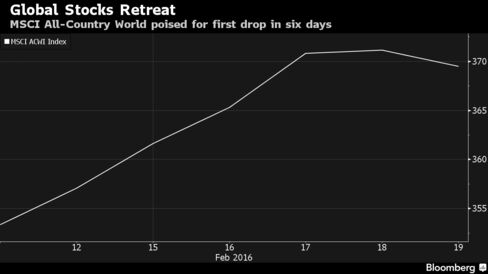 Commodities dipped lower this week even after Saudi Arabia and Russia, the world's two largest oil-producing countries, agreed Tuesday to freeze output at near-record levels. Iran said it would support the action, though the nation doesn't think it will be enough to remove the supply glut, according to a person familiar with Iranian policy. Capital Group Cos., the money manager with $1.4 trillion in assets, expects volatility to remain elevated amid a slowing global economy and uncertainty about central bank policies.
"The direction and sentiment in the oil pits has a pretty tight correlation with what's happening in equity markets," said Michael James, managing director of equity trading at Wedbush Securities Inc. in Los Angeles. "We got way oversold last week and there were a number of events that, when tied together, probably led to a fair amount of short-covering. We got overextended to the downside last week, we've had a pretty decent bounce off of those oversold levels and now we're at an overbought condition."
Stocks
The S&P 500 ended Friday flat, after earlier losing as much as 0.8 percent. It climbed 2.8 percent for the week, its strongest performance for that time span since November, with a rebound that's been led by the year's most beaten-down sectors, including banks, technology and retailer shares.
A recovery in technology shares today was paced by Applied Materials Inc., which predicted sales this quarter that beat analysts' estimates. Financial companies wiped out losses as American Express Co. climbed 1 percent.
Index futures extended losses after a 8:30 a.m. report showed the so-called core consumer-price measure climbed 0.3 percent, more than forecast and the most since August 2011, after a 0.2 percent gain the month before.
"Although we have not yet reached the point that inflation data demands a policy response we have arguably left the zone in which the threat of deflation took the possibility of interest rate increases off the table," Michael Shaoul, chief executive officer at Marketfield Asset Management LLC in New York, wrote in a note after the inflation data.
The Stoxx Europe 600 Index slid 0.8 percent, trimming a 4.5 percent weekly gain. The benchmark gauge is still down more than 10 percent this year. Banks posted among the biggest losses with Credit Suisse Group AG falling 2 percent after Milan prosecutors were said to be probing whether it engaged in money laundering and evaded taxes when it sold insurance policies that clients from Italy used to shield funds from tax authorities.
Japan's Topix index trimmed its weekly advance to 8 percent, still its best such gain since 2009. While the MSCI All Country World Index slipped 0.4 percent, it's climbed 3.6 percent in the last five days, its best weekly performance since Oct. 9.
Commodities
West Texas Intermediate crude slipped $1.13 to settle at $29.64 a barrel, after rising the past two days on statements by the Saudis, Russians and Iranians.
Copper for delivery in three months rose 1 percent to settle at $4,621 a metric ton on the London Metal Exchange, while zinc, aluminum, lead and tin all gained.
Bonds
Treasuries fell, pushing the rate on benchmark two-year notes five basis points higher to 0.74 percent after the inflation data.
The 22 primary dealers including Goldman Sachs Group Inc. and Citigroup Inc. that underwrite the U.S. debt and make a market in the securities held $113.5 billion of Treasuries in the week ended Feb. 10, based on the most recent central bank data. The amount is the most since October 2013. The figures suggest investors are unloading securities on to the Wall Street banks, which are having trouble reselling the bonds, according to Nomura Holdings Inc., one of the dealers.
Japan's benchmark 10-year bond yield fell as low as minus 0.04 percent, dropping below zero for the first time in a week.
Currencies
The yen rose, posting its longest run of weekly gains since September, as investors look past signs of improvement in the U.S. economy and instead channeled their cash into haven assets. Japan's currency advanced 0.5 percent to 112.65 per dollar. It rose 0.3 percent to 125.39 against the euro.
The pound erased losses after earlier falling as much as 0.6 percent to 77.93 pence per euro. Prime Minister David Cameron and fellow European Union leaders are in negotiations over reforming the U.K.'s membership in the bloc and have sparred over welfare curbs and euro opt-outs. With still no sign of a breakthrough, the 28 nation delegations were asked to book rooms for an extra night, according to two European officials who asked not to be named because the information is not public.
Emerging Markets
The MSCI Emerging Markets Index fell for the first time this week, losing 0.7 percent, trimming the gauge's move over the five-day period to 4.2 percent.
The Hang Seng China Enterprises Index of mainland shares listed in Hong Kong extended a weekly rally to 8.1 percent, its best week in 10 months. The Shanghai Composite Index rose 3.5 percent, capping its best week this year.
China's central bank will boost the amount of reserves some banks must lock away as it moves to contain risks after a January surge in credit by smaller lenders. The targeted increase in the reserve requirement ratio will affect regional banks among others, according to people familiar with the matter, who asked not to be identified because the move wasn't made public.
The yuan had it biggest weekly advance in almost a year with sentiment getting a boost from a central bank show of support and government steps to bolster economic growth. The currency rose 0.85 percent from Feb. 5, according to China Foreign Exchange Trade System prices. That's the biggest weekly gain since March 2015.
Before it's here, it's on the Bloomberg Terminal.
LEARN MORE