The U.K. is one of the best countries to be a working mother in Europe, though it's one of the worst in the region for workers who need paid sick leave or are unemployed, a new study suggests.
Employers in the U.K. are required to offer one year of leave to staff who are new mothers. The first six weeks are at 90 percent of previous earnings, the following 33 weeks have a maximum pay of up to £140 (about $200), while the remainder is unpaid.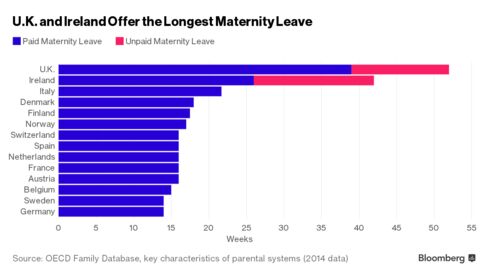 European Union legislation requires that employers must offer at least 14 weeks maternity leave, and – while the U.K. has the longest entitlement – Germany, Spain, the Netherlands, France, Austria, and Denmark all offer at or near the statutory 14 weeks at full pay. Glassdoor notes that in Sweden and Norway, the maternity-specific monetary allowance is difficult to distinguish, as it's offered to both parents. There is no maternity pay as such, according to the report, but women can use part of their paid parental leave entitlement.
The U.K. is not as generous when it comes to sick leave, according to Glassdoor's report "Which Countries in Europe Offer Fairest Paid Leave and Unemployment Benefits?"
British companies only need to offer 28 weeks paid leave at a flat rate of around £88 (about $125) a week, according to Glassdoor Economic Research, which collaborated with with Llewellyn Consulting for the research. As a comparison, workers in the Netherlands can be absent for up to 104 weeks (2 years), while receiving 70 percent of their salary.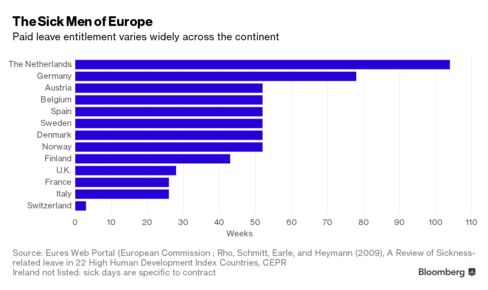 The report, released Feb. 18, also looked at unemployment benefits and found that the U.K., Ireland and Austria were the least generous. Belgium, Denmark and the Netherlands came out on top in that category.
The study looked at 14 European countries, comparing maternity and paternity entitlements, general parental leave, sick pay allowances, annual paid holiday, and unemployment benefits, with the U.S. also used as a benchmark. (It offers no statutory maternity or paternity leave, no mandatory sick pay allowance and no minimum paid annual leave.)
"No governments have limitless budgets, but the general perception has always been that the U.K. provides a generous benefit scheme for all," Dr. Andrew Chamberlain, chief economist for Glassdoor, said in a press statement released with the report. "We now have evidence to suggest that Britain is no longer an easy ride, especially when compared to its European neighbors."
As far as benefits go for new fathers, Glassdoor suggests the best country in Europe is Finland. New fathers in Finland get 45 working days off — the most in Europe — with Spain and France the next-most generous, offering 15 and 11 days respectively, according to the report. Glassdoor points out that paternity leave is still unregulated by the EU.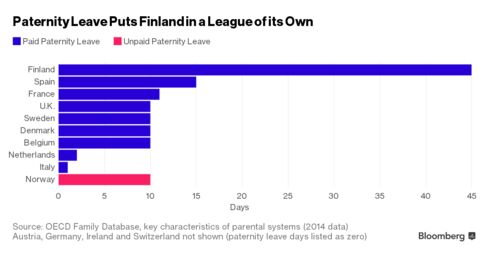 This story was written by Bloomberg Brief. To subscribe or for a free trial, click here.
Before it's here, it's on the Bloomberg Terminal.
LEARN MORE