ECB Debated Preemptive Action to Counter Rising Global Risks
Central bank publishes account of Jan. 21 policy meeting

Officials reaffirmed `no limit' to use of instruments
European Central Bank policy makers meeting in January debated whether the risk of a global slowdown warranted preemptive monetary stimulus, and at least one Governing Council member saw a need to overshoot the central bank's inflation goal for a "limited period."
"The point was made that, in a situation in which risks were predominantly on the downside and new downside risks were emerging, it would be preferable to act preemptively, taking emerging risks into accounts, rather than wait until after risks had fully materialized," an account of the meeting published on Thursday showed. "However, a remark was made cautioning against adopting an explicit risk-based approach to monetary policy, driven largely by 'insurance'."
ECB President Mario Draghi said after the Jan. 21 gathering that the central bank agreed to "review and possibly reconsider" its policy at its next meeting on March 10. Inflation in the region has fallen short of the ECB's goal of just under 2 percent for almost three years, and current stimulus now risks being undermined by an emerging-market slowdown and a sell-off in bank stocks that threatens to depress credit.
Council members expressed concern that the impact of a renewed slump in oil prices was spreading through the 19-nation economy, adding to the risks that low inflation was becoming ingrained.
"Wage dynamics could point to incipient signs of second-round effects, whereby wage dynamics become increasingly driven by past inflation rates," the account showed. "It was to be expected that such direct and indirect effects of lower energy prices would be further transmitted through various components" of headline inflation and "could thus have an impact on core inflation."
The Governing Council raised the possibility that once it does achieve its inflation goal, it could let consumer prices rise at an even faster rate for a while, citing the 'symmetry" of its commitment.
"A view was put forward" that "it appeared logical from a medium-term perspective for the Governing Council, after a prolonged period of undershooting of its inflation aim, to consider a limited period of overshooting in future," according to the account.
Council members also discussed the role of the euro exchange rate, noting that while it continued to play an "important role" in transmitting the ECB's stimulus, it "had weakened owing in particular to the depreciation of the currencies of emerging market economies."
The ECB measure of the single currency's real trade-weighted exchange rate was at 111.62 as of Feb. 17, up from 111.12 on Jan. 21 and 105.91 on Dec. 3, the date of the previous policy meeting. It reached 113.26 on Feb. 11, the highest level in over a year.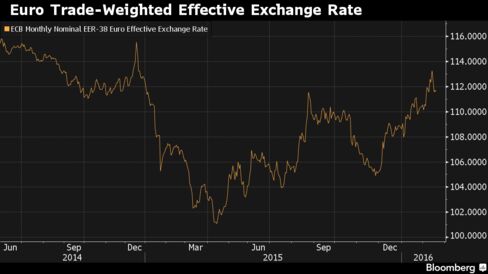 In December the ECB cut its deposit rate to minus 0.3 percent, extended its quantitative-easing program to at least March 2017, and pledged to reinvest the principal of the bonds it bought. Investors are pricing in a further rate cut in March and analysts have raised the prospect of an increase in QE purchases, currently set at 60 billion euros ($67 billion) a month.
"Reassurance was needed to be given that the Governing Council had a variety of instruments at its disposal to respond to circumstances and that there was no limit to how far it was willing to deploy instruments within its mandate," the account showed. There was also "wide agreement" that ECB communication should avoid "complacency on the deteriorating price outlook while also avoiding conveying an unduly gloomy message" that could be self-fulfilling.
The Governing Council shared the view that the recent equity sell off in the banking sector was triggered "in large measure" by "misperceptions about ongoing supervisory activities" and that it was important to counter the view that those would result in "additional provisioning or capital requirements."
Before it's here, it's on the Bloomberg Terminal.
LEARN MORE