Budget Squeeze Pushing South African Cities Back to Bond Market
Cape Town, Johannesburg among cities mulling debt sales

Municipal bond issuance fell to lowest since 2009 last year
South Africa's moribund municipal bond market is poised for a resurgence as central-government budget constraints force cities to raise debt for infrastructure projects ranging from roads to water provision.
Cape Town said this week it may sell as much as 2.2 billion rand ($143 million) of bonds in the fiscal year starting July 1, while Johannesburg said in November it planned to issue up to 2 billion rand. That's already more than five times the amount of debt issued in 2015, when only one municipality -- Ekurhuleni, east of Johannesburg -- sold securities. Others may follow suit, according to Standard Bank Group Ltd.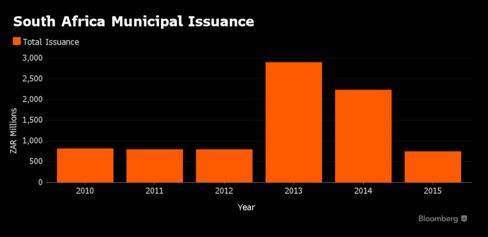 Infrastructure spending by South Africa's eight largest cities will rise by about 50 percent in the three-year period from 2015 to 2017 to 103 billion rand at a time when capital transfers from central government are forecast to grow by 4 percent annually, leaving a funding gap of as much as 24 billion rand, Moody's Investors Service said in a report last year. Investors would be attracted to higher yields offered by municipal bonds compared WITH government securities, according to Zoya Sisulu, head of debt capital markets, South Africa, at Standard Bank.
"There's a lot of infrastructure expenditure that happens at the municipal space and therefore it makes sense for them to be accessing capital markets to fund that," Sisulu said by phone from Johannesburg on Thursday. "The foundation has been laid. Treasury has made efforts to encourage municipalities to self-fund. There is demand."
President Jacob Zuma told provincial leaders last month that "urgent and far-reaching budget cuts" were needed and provinces could expect substantial reductions to their allocations from the National Treasury, according to Helen Zille, premier of the Western Cape province. Cape Town, the provincial capital, plans to spend 16.9 billion rand on infrastructure investments over the next three years, of which only 42 percent will be funded by central government transfers, Moody's said in a report on Feb. 12.
Yields on Cape Town's 2 billion rand of notes maturing in March 2025 have climbed 218 basis points in the past year to 10.9 percent on Thursday, or 177 basis points more than similar-maturity South African government debt. The Cape Town bonds are rated A1.za at Moody's, the fifth-highest investment level. They have returned 5.3 percent this year, compared with returns of less than 0.1 percent for emerging-market local-currency government debt tracked by Bloomberg indexes.
'Well Placed'
Johannesburg, South Africa's commercial center and biggest city, plans to spend about 70 billion rand on infrastructure through 2021, Treasury Director Khomotso Letsatsi said in November. About 30 percent of that will be financed from external borrowing, with a bond sale of as much as 2 billion rand planned before June, she said.
Both Cape Town and Johannesburg are well-placed to sell debt in coming years, said Mokgatla Madisha, head of fixed-income investments at Argon Asset Management Ltd., which owns bonds of both cities among about 27 billion rand of assets. Once other metros start selling debt more frequently, that would kindle more interest from investors, he said.
"The more you engage with investors, the better they will understand your cash flows, your business and your investment plans," Madisha said by phone from Cape Town. "So that when you then come to approach the market for funding, it's a story they're well-acquainted with."
Before it's here, it's on the Bloomberg Terminal.
LEARN MORE