Applied Materials Climbs on Forecast for Strong Chip Demand
Company says transition to new technology driving sales

China's push for domestic chip making also helping orders
Applied Materials Inc. jumped the most in almost two years after predicting sales this quarter that may beat analysts' estimates, a sign that the electronics industry is optimistic about future demand.
Shares in the largest maker of machinery used to produce computer chips rose 7.1 percent to $18.38, the biggest single-day gain since May 2014, after forecasting revenue of $2.37 billion to $2.48 billion in the current three-month period compared with an average analyst estimate of $2.28 billion. Profit minus certain items will be 30 to 34 cents a share, the Santa Clara, California-based company said in a statement Thursday, topping the projection for 27 cents.
Investors use Applied Materials earnings and forecast as a pointer to the confidence of chipmakers in future demand because of the time and expense it takes to build, equip and upgrade factories. Semiconductor makers appear to be committed to deploying more advanced manufacturing techniques and buying new machinery for it, according to Patrick Ho, an analyst at Stifel Nicolaus & Co.
"I think there are a lot of tail winds for Applied Materials as the year progresses," said Ho, who recommends buying the stock. "Things are a little bit quiet near term."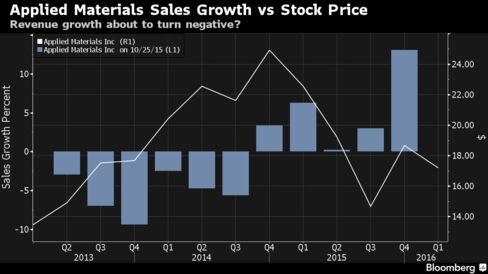 Applied's customers are being forced by the limits of current production techniques to shift to new methods of manufacturing, many of which require more steps and more equipment, according to Chief Executive Officer Gary Dickerson. They're also being forced to retool their factories to keep up with competitors. Demand is also getting a lift from China's push to boost domestic chip production and reduce its dependence on imports, he said.
"These battles are hugely strategically important to our customers," Dickerson said. "China is another driver in terms of opportunities."
Net income in the fiscal first quarter, which ended Jan. 31, fell to $286 million, or 25 cents a share, from $348 million, or 28 cents, a year earlier, the company said. Revenue fell 4.3 percent to $2.26 billion. Analysts on average had projected net income of 24 cents on sales of $2.24 billion.
Applied Materials is also the largest maker of equipment used to manufacture flat-panel displays, helping diversify its revenue sources. And it gets about a quarter of its revenue from service contracts under which it supplies parts and maintenance for factory equipment.
Before it's here, it's on the Bloomberg Terminal.
LEARN MORE