Turkey Faces More Turmoil as Erdogan Seeks to Enhance Powers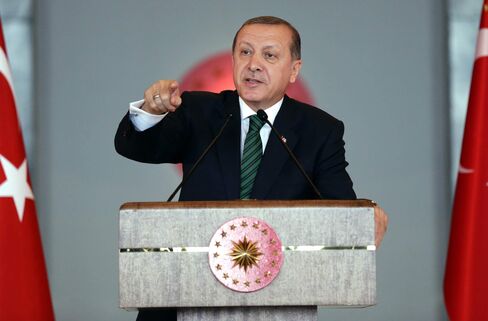 Efforts to reach consensus on new constitution have failed

Speculation is mounting Erdogan may risk an early election
Turkish President Recep Tayyip Erdogan is expected to try to push through parliament a new constitution concentrating power in his office after efforts to write a charter agreeable to all political parties collapsed.
A special parliamentary committee charged with exploring a consensus approach broke up late Tuesday amid stiff opposition to Erdogan's proposal from the main opposition party, CHP. The panel's failure after just three meetings opens the way for the ruling AK Party that Erdogan co-founded to submit its own draft charter to parliament's main constitutional committee, which it dominates.
"Prepare it and submit it to the nation. Let the nation decide on it," Erdogan said in a televised speech on Wednesday. "We will make a new constitution in line with the building of a new Turkey. God willing, the presidential system will be realized in this way."
Rivals of Erdogan, already Turkey's most dominant leader in decades, have repeatedly denounced his attempts to introduce an executive presidential system, concerned over the accumulation of power. Turkey held two general elections last year, and the impasse over the new constitution threatens further political turmoil at a time when Turkey is waging a war with Kurdish rebels in its southeast and risks getting drawn deeper into the conflict in neighboring Syria.
Prime Minister Ahmet Davutoglu called on political parties to keep working toward a new charter, while Oktay Ozturk, a leading member of the nationalist MHP, said his party supports further talks.
'On the Table'
"When you are making a constitution, all relevant issues, including the presidential system, must be on the table," Davutoglu said in a televised speech in Ankara on Wednesday.
At some stage, the government will need to win the support of at least 14 opposition lawmakers in the 550-seat parliament to bring its plan to a national referendum, something it may struggle to do. Speculation is mounting that Erdogan may even risk another early election to seek a stronger mandate for the party.
The political tensions risk paralyzing parliament at a time when investors are waiting for the implementation of key economic and judicial reforms. The lira's implied one-month volatility against the dollar jumped 60 basis points to 13.05, the highest since Jan. 20 on a closing basis.
The currency rose 0.5 percent to 2.9615 per dollar at 4:54 p.m. in Istanbul on Wednesday, after hitting a three-week low in early-morning trade.
"The presidential system is at the moment at the top of the agenda, and that's why everything else, including necessary economic reforms, are likely to be sidelined," Naz Masraff, director for Europe at political risk consultants Eurasia Group, said in a recent interview. "The real question for investors at the moment is when Erdogan is going to push for this presidential system and how, whether through a referendum or an early election."
Before it's here, it's on the Bloomberg Terminal.
LEARN MORE