Groups challenging coal miners' practice of self-bonding

The issue threatens to push Peabody ``over the edge'': analyst
While Peabody Energy Corp. has spent months negotiating its debt with lenders, another $1.47 billion problem has surfaced that's threatening to force the nation's biggest coal miner down the same road as its bankrupt rivals.
It's called "self-bonding." And it's under attack by groups who've lodged complaints about the practice in five states in the past week. For decades, Peabody and other coal producers deemed to have strong balance sheets have saved cash under this privilege that excuses them from having to post collateral or obtain surety bonds that cover future mine clean-up costs. Peabody self-bonds in five states including Wyoming.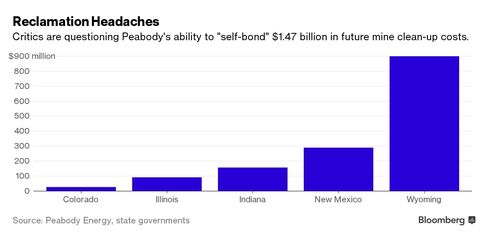 As Peabody's finances deteriorate amid a historic coal rout, calls are mounting from environmentalists, lawyers and federal officials for Wyoming and other states to crack down on the practice of self-bonding. On Tuesday, the U.S. Office of Surface Mining Reclamation and Enforcement sent letters to regulators in Wyoming, New Mexico and Colorado asking them to examine whether Peabody still qualifies, according to OSMRE spokesman Chris Holmes.
Taken together, it's a push that may force coal miners to post billions of dollars for future clean-up costs just as they're struggling to protect their share of the U.S. power market from cheap natural gas.
"Self-bonding is the sword of Damocles, and if the thread breaks, it could be the catalyst that impales Peabody and pushes them over the edge," said Spencer Cutter, a credit analyst at Bloomberg Intelligence.
Critics of self-bonding are proliferating after Alpha Natural Resources Inc. and Arch Coal Inc. filed for bankruptcy in recent months, raising the question in court of who will cover their mines' future reclamation.
Peabody said in a Feb. 11 statement that it continues to qualify for self-bonding in all five states and that Wyoming reaffirmed its eligibility in the fourth quarter of 2015. It qualifies through its Peabody Investments Corp. affiliate, for which financial records aren't publicly available.
In Wyoming
The company has an "excellent" record of land restoration and routinely spends "tens of millions" of dollars to restore lands that other companies mined, Peabody spokeswoman Beth Sutton said in an e-mailed statement.
In Wyoming, the company's self-bonding amounts to $900.5 million, according to Keith Guille, a spokesman for the state's Department of Environmental Quality.
One state revoking Peabody's ability to self-bond may spur others to follow suit, said Matthew Farwell, an analyst at Imperial Capital LLC in New York. "Anything that is going to use up liquidity or reduce the liquidity is going to accelerate the path towards bankruptcy," he said. "If the state of Wyoming ever requires this, it's probably too large of a task for the company."
Peabody had exhausted its revolving credit facility and had $902.6 million in liquidity as of Feb. 9.
Federal Notices
Last month, the OSMRE sent notices to Wyoming's Department of Environmental Quality arguing that Alpha Natural and Arch Coal were violating federal and state requirements because they no longer qualify for self-bonding. The Wyoming agency responded by saying there are "certain systemic problems with self-bonding" but that it had already addressed Alpha's case. The department hasn't responded to the Arch complaint.
On Friday, the Chicago-based Environmental Law & Policy Center filed "citizen complaints" arguing that Peabody should lose its self-bonding status in Illinois and Indiana, saying it's "essentially trading as a penny stock." The company's shares have fallen 98 percent in the past year, and settled at $2.49 on Wednesday in New York trading.
"Its balance sheet is severely deteriorating, and it's facing a liquidity crisis," said Howard Learner, executive director of the environmental legal advocacy group. "Self-bonding should no longer be accepted, and the Illinois and Indiana taxpayers shouldn't be left at risk holding the bag."
WildEarth Guardians, an environmental advocacy group in Santa Fe, New Mexico, filed similar complaints on Feb. 10 regarding Peabody's operations in Colorado, New Mexico and Wyoming. Jeremy Nichols, WildEarth's climate and energy program director, said, "We're effectively bailing out bankrupt big coal."
Before it's here, it's on the Bloomberg Terminal.
LEARN MORE