John Paulson's Bad Timing and Other Highlights From 13F Filings
Icahn and Einhorn, once big Apple supporters, cut stakes

Loeb and Halvorsen load up on health-care stocks in quarter
Forty-five days after the end of every quarter, investors scour the quarterly filings of hedge fund managers to glean trading ideas, suss out trends or simply seek a little Schadenfreude over other people's missteps.
Here are some highlights from the latest round of 13F filings, which list the U.S. holdings of money managers as of Dec. 31:
Paulson scales back on gold ahead of rally
John Paulson, who runs Paulson & Co, cut his firm's stake in the world's biggest exchange-traded product backed by bullion by 37 percent last quarter -- just before the commodity's 13 percent rally in 2016. The billionaire uses the SPDR Gold Shares exchange-traded fund to back shares of his funds that are denominated in gold. He first started offering the gold class in early 2009, betting that prices would rise amid unprecedented monetary stimulus. He was right for a while: Bullion climbed 70 percent from December 2008 to June 2011 and hit a peak later that year. But by last December, it had retreated to a five-year low.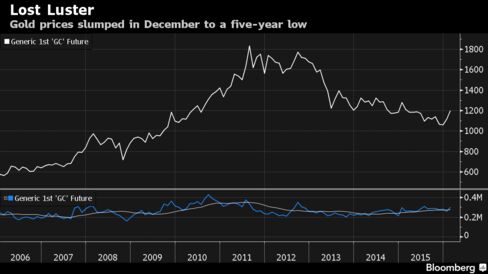 Icahn and Einhorn cut Apple shares
Carl Icahn and David Einhorn, once among the biggest proponents of Apple Inc., both scaled back their holdings in the fourth quarter. Icahn reduced his ownership in the iPhone maker by 13 percent, while Einhorn's Greenlight Capital decreased its stake by 44 percent. Chase Coleman's Tiger Global Management took the other side of the trade, adding a new position valued at $1.1 billion as of Dec. 31.
Elliott, Eton Park, Appaloosa increase equities
Some big-name investors, including Paul Singer's Elliott Management, Eric Mindich's Eton Park Capital Management and David Tepper's Appaloosa Management increased their stock holdings by 40 percent or more in the final quarter of 2015. Those moves preceded the worst start to the year for U.S. stocks since 2009.
Baupost, Appaloosa purchase energy stocks
As crude prices tumbled 30 percent last year and energy shares headed in the same direction, some investors decided it was time to start buying. Tepper added pipeline companies Energy Transfer Partners LP and Kinder Morgan Inc., his biggest new positions. Seth Klarman's Baupost Group increased its holdings in Cheniere Energy Inc., Antero Resources Corp. and Sanchez Energy Corp.
Third Point, Paulson and Viking add to health care
Health-care stocks hurt a lot of prominent managers in 2015 -- think Bill Ackman and his tumbling stake in Valeant Pharmaceuticals International Inc. Yet a few managers upped their exposure. Dan Loeb's Third Point and Paulson & Co. added to already-hefty allocations to biotechnology and pharmaceuticals companies in the fourth quarter, leaving them with more than half their U.S. stock holdings in the sector. Zach Schreiber's PointState Capital and Andreas Halvorsen's Viking Global Investors put more money into Teva Pharmaceutical Industries Ltd., bringing health care to 37 percent and 32 percent, respectively, of their disclosed long positions.
Before it's here, it's on the Bloomberg Terminal.
LEARN MORE