Goldman's Head of Commodity Research Says the Saudi-Russia Oil Deal Won't Make A Difference
Would freezing production have an impact?
The oil markets have been desperately searching for some good news, whether that be on the supply or demand side. A glimmer of hope came Tuesday when major oil producers Saudi Arabia and Russia agreed to freeze production, but the commodities team at Goldman Sachs says this deal isn't going to send prices higher.
In an interview on Bloomberg TV, Goldman's Global Head of Commodities Research Jeff Currie left little hope for the bulls. When asked if the news changed anything in his analysis, he said "No. In fact, I think the key point there really is that they're going to keep on pumping at their already extremely high levels." Currie went on to add that based on his estimates, "Russia was already producing the highest [amount of oil] it was going to produce this year, and that still leads to substantial year-over-year growth for 2016. So that's really no deviation from our outlook... You have a lot of producers already sitting on their highs when they made these announcements."
Looking back at historical production cuts, Currie called on 1998 as the best reference period. "I think the analogy to '98 is a good one because it gives you an idea of why it's so difficult to balance the market today," he said. "One thing that Saudi Arabia did in '98 is they kicked up production similar to what they did in the most previous cycle. Why? Because they anticipated strong economic growth that then evolved into what we now know is the Asian financial crisis. So you had a huge surplus that they not only had to take out the production they brought online but they had to rebalance the market relative to the demand loss. They have a similar situation right now."
During this period, prices continued to move lower for about a year after the first cut.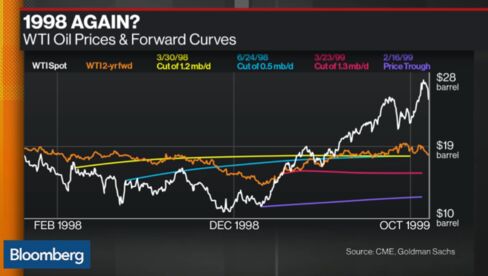 Analysts at Credit Suisse had a different take. "Tuesday morning's meeting between the oil ministers of Saudi Arabia, Russia, Qatar, Nigeria and Venezuela was, in our view, significant in a number of ways," the team, led by Jan Stuart said. "While an agreement to freeze supply at January levels for the balance of this year does not sound like much and has only been subscribed to by three Opec members and Russia; the simple fact is that the words Saudi Arabia + Russia + Oil + Agreement have not been printed in one sentence since oil prices began to collapse in the summer of 2014."
Before it's here, it's on the Bloomberg Terminal.
LEARN MORE