Fuller House and TV's Full-On Nostalgia Trip
With Fuller House, The X-Files, and more reboots to come, TV banks on the power of nostalgia.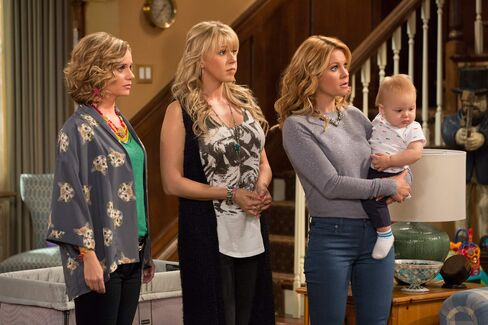 "Whoa, I'm having an acid flashback," says wacky next-door neighbor Kimmy Gibbler upon entering the Tanner home in the first episode of Netflix's Full House reboot. Fans of the sitcom, which aired from 1987 to 1995, will feel the same déjà vu seeing the Tanners together again around the kitchen table. When Kimmy (Andrea Barber) corrects herself and says she's actually having an antacid flashback, viewers old enough to have watched the show on Friday nights in the '80s may identify with that, too.
Hollywood studios have banked on the nostalgia-inducing power of revived franchises for years; now TV networks are committing to the practice with the glee of a live studio audience. Already this year, Fox brought back The X-Files for a six-show miniseries. New Twin Peaks and Gilmore Girls episodes are being plotted, too.
This model isn't exactly revolutionary. Star Trek, Doctor Who, and Battlestar Galactica were all successfully rebooted; Charlie's Angels, Beverly Hills 90210, and Knight Rider were—let's be generous—not. In these cases, networks tried to revive a series and see if they could replicate their initial success. Netflix has committed to 13 episodes of Fuller House, and Disney Channel is all in on Girl Meets World, but many of the second comings are designed to last only a dozen or fewer episodes, with as much reminiscing as possible jammed in.
Fuller House, which premieres Feb. 26, is a gender-swapped version of its parent series. In the original, widower Danny Tanner (Bob Saget) recruits his best friends, Jesse and Joey (John Stamos and Dave Coulier, respectively), to help raise his three daughters. On Fuller House, eldest daughter D.J. (Candace Cameron-Bure), now a veterinarian, returns home following her husband's death—it seems you don't want to marry a Tanner—and enlists best friend Kimmy and younger sister Stephanie (Jodie Sweetin) to move in and co-parent her three sons. High jinks ensue.
The humor is essentially unchanged, though characters repeat catchphrases (like Uncle Jesse's "Have mercy!") with a wink and a nod in the same way they make references to the '90s: "My moves are all that and a bag of chips, so talk to the hand," Kimmy says after doing the Hammertime dance. Fuller House is fun not because of plot twists and turns—it's hardly trying to compete on that front—but because it takes us back to when a lame gag about how boys are more focused on sandwiches than girls could get a laugh.
The absence of Mary-Kate and Ashley Olsen, who were cast as youngest sister Michelle on Full House, is glaring. But playing a grown-up toddler can't be a good look for women who've become a big deal in the fashion world. This is addressed in the first episode when Danny says, "Michelle sends her love, but she's busy in New York running her fashion empire." The cast looks into the camera, as if to echo a Stephanie catchphrase: "How rude."
And you know what? It is rude. What we want with a reboot is to pick up where we left off, like nothing's changed. But that's hard. The casting for Twin Peaks hasn't yet been confirmed. Gilmore Girls will go forward without the now-very-famous Melissa McCarthy, though. As the Full House theme song—which is also the Fuller House theme song, covered by Carly Rae Jepsen—asks, "Whatever happened to predictability?"
Before it's here, it's on the Bloomberg Terminal.
LEARN MORE