FOMC Voters More in Line With Yellen Than Bernanke: Chart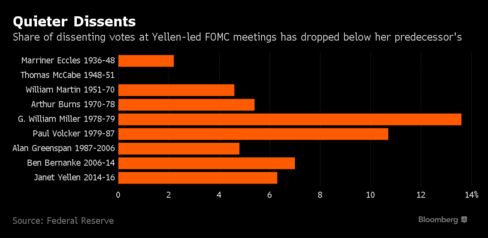 Voters on the Federal Open Market Committee are dissenting at a lower rate through Chair Janet Yellen's first 16 meetings than was the case during the tenure of her predecessor, Ben S. Bernanke. Just over 6 percent of FOMC votes have been dissents under Yellen compared to 7 percent for Bernanke. Thomas McCabe, who served from April 15, 1948 to March 31, 1951, experienced no dissents during his time as FOMC Chair.
Before it's here, it's on the Bloomberg Terminal.
LEARN MORE