Devaluation Bets for Saudi Riyal Drop to Lowest This Year: Chart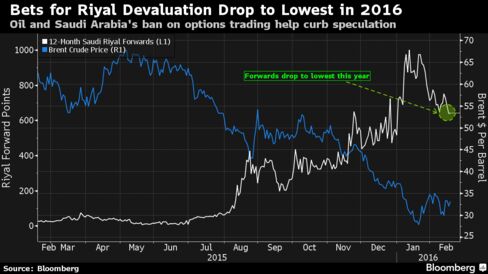 Saudi Arabia has taken the froth out a market that was stoking speculation the kingdom might abandon its currency's three-decade-old peg to the dollar. Twelve-month forward contracts for the riyal closed at 640 points on Tuesday, the lowest level since Dec. 31, according to data compiled by Bloomberg. Oil's stabilization above $30 has been a key driver, as the markets are inversely correlated, while the country's central bank asked lenders last month to halt the sale of options contracts in a bid to curb speculation.
Before it's here, it's on the Bloomberg Terminal.
LEARN MORE