Yellen Heads for March Crossroads as Market Urges Policy Detour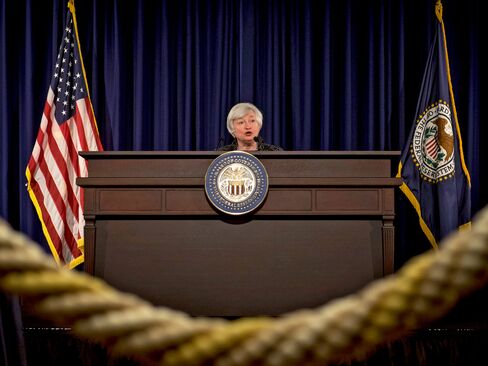 Investors discount rate hike as turmoil damps economic outlook

Fed chair reiterates policy decisions are data dependent
Janet Yellen has her eyes on the road.
After the Federal Reserve chair assured U.S. lawmakers that the U.S. economy is strong enough to weather a gradual tightening of monetary policy, she is set to spend the next four weeks measuring the bumps that financial-market turbulence put on the path to higher interest rates.
With jobless data signaling full employment and inflation expected to rise toward 2 percent over the medium term, the March 15-16 meeting of the Federal Open Market Committee will be a test of how data dependent policy makers are prepared to be.
Since the Fed raised interest rates for the first time in almost a decade in December, Yellen and her colleagues have stressed that the pace of future tightening will be determined by incoming data about the economic outlook.
While those readings don't undermine the case for higher borrowing costs, tighter financial conditions and market volatility reflecting uncertainty over global economic prospects are risks that may stay Yellen's hand.
"If you strictly look just at the data -- the labor market, even core inflation -- the Fed would raise rates in March. But it's not just up to that," said Roberto Perli, a partner at Cornerstone Macro LLC in Washington. With financial conditions threatening to cloud the outlook, "we're at a point of postponement. If the broader market stabilizes and they continue to see positive data, the Fed can progress in April or June."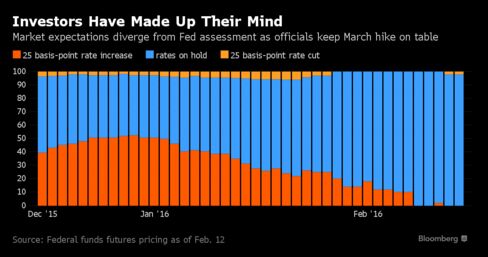 The mantra Yellen recited frequently during her testimony to the House Financial Services Committee and the Senate Banking Committee last week was that monetary policy is "by no means" on a preset course. Her comments upstage the minutes of the Jan. 26-27 meeting the Fed will release on Wednesday, though these will still provide important clues about the balance of views within the committee.
"The actual path of the federal funds rate will depend on what incoming data tell us about the economic outlook," Yellen told Congress. "We will take into account a wide range of information, including measures of labor market conditions, indicators of inflation pressures and inflation expectations, and readings on financial and international developments."
The rate of people out of work fell to 4.9 percent in January and underemployment dropped to levels last observed since before the collapse of Lehman Brothers Holdings Inc. Inflation expectations have, in Yellen's words, been "reasonably stable," with a strengthening labor market expected to push price pressures gradually toward the Fed's 2 percent goal. Finally, policy makers currently don't see evidence of a sharp slowdown in the Chinese economy.
March Pause
Yet, Yellen was careful to hedge her descriptions of the data, preparing the ground for a pause next month and a downward revision of forecastsby policy makers that predicted four interest-rate increases this year when they were released in December.
She said that there's room for "further sustainable improvement" in the labor market, market-based measures of inflation compensation have fallen to historically low levels, uncertainty about China's economic prospects have increased, and financial conditions in the U.S. are tighter than at the start of the year.
If these developments prove persistent, they could all weigh on the outlook.
"At this point in time, uncertainty in financial markets will probably take the upper hand; with turbulence ongoing they're more likely to say we need more time to assess," said Michael Feroli, chief U.S. economist at JPMorgan Chase & Co. "We need several weeks of calm in the markets, perhaps a few months, before we can say what the impact will be on the economy."
U.S. stocks advanced on Friday, with the Standard & Poor's 500 Index snapping its longest losing streak since September. Investor concern over the global outlook has routed financial markets in recent weeks, casting doubt over the direction of Fed policy.
Pricing on federal funds futures indicates that investors consider a cut in rates at the March meeting more likely than a hike, and the median probability for a U.S. recession in the next 12 months climbed to 20 percent in this month's Bloomberg survey of economists, the highest since early 2013.
While Yellen hinted that the central bank may delay its plans for tighter policy to assess how the economy reacts to current headwinds, she signaled that she's withholding judgment: "We want to be careful not to jump to a premature conclusion on what is in store for the U.S. economy."
"The Fed is unhappy about how the market is pricing them and Yellen sent a warning," said Gennadiy Goldberg, an interest-rate strategist in New York at TD Securities, one of the 22 primary dealers that trade with the Fed. "Her message: We're watching the data just like you are, and we haven't made up our mind. We're not capitulating on a 2016 rate hike, not even on March, even though the odds are extremely low."
Before it's here, it's on the Bloomberg Terminal.
LEARN MORE