Ukrainian Premier Yatsenyuk Survives No-Confidence Vote
Motion can't be repeated during current sitting of parliament

President Poroshenko earlier urged Yatsenyuk to resign
Ukrainian Prime Minister Arseniy Yatsenyuk survived a no-confidence motion in parliament after President Petro Poroshenko had called for a "complete government reboot" to end political turmoil that's jeopardizing the economy and billions of dollars of foreign aid.
The motion in the legislature Tuesday in Kiev garnered 194 votes, short of the 226 needed to oust the 41-year-old Yatsenyuk. Parliament Speaker Volodymyr Hroisman ended the session immediately after the vote took place. Under Ukraine's constitution, the motion can't be repeated during the current sitting of the legislature, which ends in July. The fall cycle starts in September.
Ukrainians and the nation's foreign backers are losing patience with delays in fighting corruption and modernizing the economy amid a recession and a pro-Russian insurgency that's killed 9,000 people. Two top reformers quit this month, alleging graft within the ruling coalition. The president and his team swept to power after a popular uprising and promised to bring European levels of transparency to the ex-Soviet republic after decades of misrule. They now also have to contend with a deepening conflict within the government.
"The situation will remain tense," Yuriy Yakymenko, head of the political department at the Razumkov Center for Economic and Political Studies in Kiev, said by phone. "There were too many harsh statements during today's debate, so it will be difficult to restore cooperation."
No Elections
Yatsenyuk's victory over the no-confidence motion is a defeat for Poroshenko, who had urged the premier's resignation and the formation of a technocratic government. It also means that the nation averted the risk of early elections.
Ukrainian government bonds had pared losses after Poroshenko's comments, when he also sought the removal of Prosecutor-General Viktor Shokin. Shokin later in the day submitted his resignation, Mustafa Nayem, a member of the presidential party, said on Twitter. The yield on notes due 2019 climbed 50 basis points to 11.38 percent after earlier jumping as high as 11.63 percent.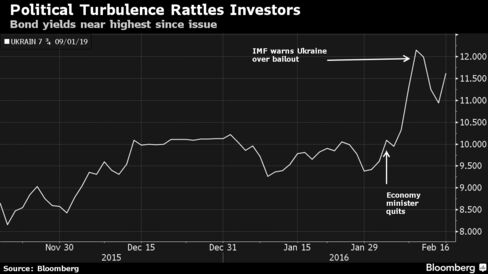 Yields surged last week as International Monetary Fund Managing Director Christine Lagarde warned the nation's bailout may be halted by political infighting. A $1.7 billion disbursement from the Washington-based lender has been delayed since last year, holding up other bilateral aid.
Before it's here, it's on the Bloomberg Terminal.
LEARN MORE