Malaysia Growth Weakest Since 2009 as Philippines Rallies: Chart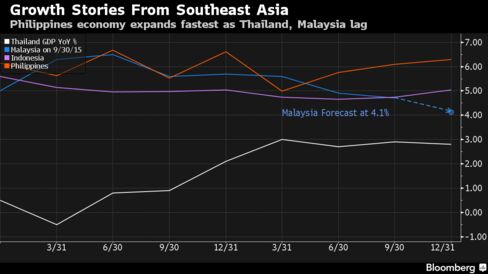 Malaysia, Asia's only major net oil exporting nation, is expected to report its economy grew in the fourth quarter at the slowest pace since the global financial crisis in 2009. The median forecast in a Bloomberg survey of 18 economists expects gross domestic product expanded 4.1 percent from the same quarter a year earlier, which would put it above only Thailand's 2.8 percent among the four biggest emerging markets in Southeast Asia. The combined GDPs of the four countries is about $1.9 trillion, with the Philippines expanding more than 6 percent in the latter half of 2015.
Before it's here, it's on the Bloomberg Terminal.
LEARN MORE