Making The Most of Negative Rates With Best Carry Trades: Chart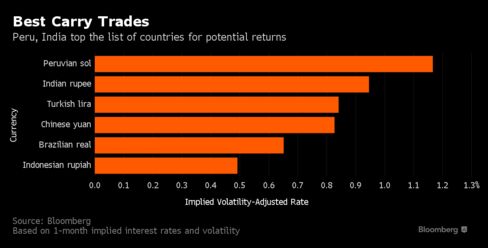 Investors looking to make the most of negative interest rates in Europe and Japan could earn the best returns if they park cash in Peru, India and Turkey. The countries offer the highest expected carry trade, which involves borrowing where interest rates are low and investing in assets that promise better yields, according to data compiled by Bloomberg. The sol, rupee and lira topped the list of 31 major currencies worldwide after adjusting for exchange-rate volatility, which threatens to wipe out any gains from the trade.
Before it's here, it's on the Bloomberg Terminal.
LEARN MORE