Gordon and Bud Did It. Did You? Insider Trading Gets a Rethink
SEC's insider trading trial heads to federal jury in New York

What is a `benefit'? Judge Rakoff weighs in -- again
Insider trading used to seem so simple.
Pass a tip: "Blue Horseshoe loves Anacott Steel."
Make a killing: "It's all about the bucks, kid."
And, just maybe, get busted: "At that moment, man finds his character."
That, anyway, is the Hollywood version, circa 1987, in "Wall Street."
On the real Wall Street, insider trading has rarely been that clear. And now, the prickly legal questions around it -- questions that have been around since the days of Gordon and Bud -- could get even thornier.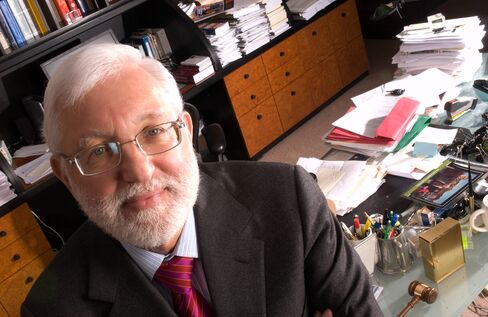 Almost three decades after the film, and seven years after the start of another dragnet that ensnared dozens, the U.S. Supreme Court is poised to take up the issue in a case involving brothers-in-law.
But before that happens, Judge Jed S. Rakoff -- who wrote the opinion headed to the Supreme Court -- is getting another chance to weigh in.
Simple Answer?
This week, Rakoff, a Manhattan federal court judge, is set to preside over a case that highlights a question that has many traders on edge: Just what is insider trading anyway? The answer might seem simple, but it's not and never has been.
Part of insider trading requires that tippers, or people who pass inside information, get a "benefit." After a pair of appeals court rulings since December 2014, it's now unclear what counts as a benefit. Cash? Yes. Career advice. No. But say the tipper and the trader are just brothers-in-law and no money is exchanged. Or roommates who occasionally share secrets. Is that insider trading?
That's what this trial is about.
Tuesday's case was brought by the U.S. Securities and Exchange Commission against two brokers, and it centers on a merger tip passed from one roommate to another. The tip was about a billion dollar deal that made its way to the two brokers now on trial.
Lawyer's Tip
According to the SEC, a lawyer who worked at Cravath, Swaine & Moore LLP told his friend, a stock trader, about International Business Machine's acquisition of SPSS Inc. in 2009.
The friend in turn bought shares in SPSS and told his roommate, who then tipped broker Daryl Payton and two colleagues. One of those brokers told another colleague, Benjamin Durant.
Rakoff said in rulings last year that the SEC may have a case against Payton and Durant, who are on trial. The evidence may well show that the tips were swapped in exchange for "past and prospective services rendered" by one roommate to the other. If the jury agrees, that would be enough to establish the benefit required under insider-trading law, he said.
"They together ate dinner, drank beers, played video games, watched TV, used drugs and discussed their respective days, current events and personal details of their lives," Rakoff said, summarizing the SEC's claims. One roommate "took the lead in organizing and paying shared expenses, and resolving problems at the apartment."
Nine Months
Lawyers for Payton and Durant are expected to argue that the tip to the roommate didn't include a benefit -- so neither that, nor anything that followed, was insider trading. The lawyers say the roommates didn't have a close relationship; they lived together for only nine months, didn't share details about one another's work, and hadn't met one another's families or friends. Payton and Durant knew even less about the roommates' relationship, their lawyers say.
Hoary legal definitions -- in fact, no single U.S. statute covers insider trading -- have complicated the issue for years, as have different views from different global jurisdictions. Pretty much everyone is confused, from traders, to prosecutors to corporate executives.
"It's a scary world when nobody knows how to conduct themselves," said Jeffrey Robertson, a Washington-based lawyer who represents clients in securities litigation. "Obviously, it's a state of flux."
It's so confusing, in fact, that Payton and Durant were criminally charged with insider trading, only to see those cases dismissed after a federal appeals court changed the law in December 2014.
California Case
The Supreme Court may at last provide guidance. Last month, it agreed to review a case from California in which Rakoff -- who was sitting on the appeals court there as a visiting jurist -- wrote an opinion on benefit that was favorable to prosecutors.
That opinion differed from the one handed down in 2014 by the New York appeals court. As a result of the New York ruling, which was favorable to defendants, prosecutors in Manhattan saw 14 of more than 90 insider-trading convictions they'd won since 2009 set aside.
Clarity will matter.
If the law requires the benefit be concrete -- cash, say -- prosecutors warn that a wayward CEO may be free to leak tips to a golfing buddy while getting nothing in return.
If, however, giving a tip to a friend or relative is enough to establish insider trading, both the CEO and his pal may be headed for prison.
As Richard Holwell, a former federal judge who presided over the 2011 insider-trading trial of Galleon Group LLC co-founder Raj Rajaratnam, put it: "Everyone agrees that some clarity is a good idea."
Before it's here, it's on the Bloomberg Terminal.
LEARN MORE