Cameron Riles French as `Brexit' Diplomacy Revives 2011 Spat
French lead opposition to Cameron's demand on bank regulation

Cameron seeking protection for U.K. lenders at Feb. 18 summit
When British Prime Minister David Cameron rushed to Paris late on Monday to lobby the French leader over safeguards for London's banks, the latest in a long line of disputes between the two countries had been five years in the making.
French President Francois Hollande is leading a group of euro-area countries unhappy with U.K. demands to shield its lenders from rules governing the single-currency area, threatening a showdown with Cameron when the EU's 28 leaders meet on Thursday. His talks with the U.K. premier were constructive but differences remain, according to a French official who said that Hollande insisted the U.K. could have no vetoes over euro-area legislation.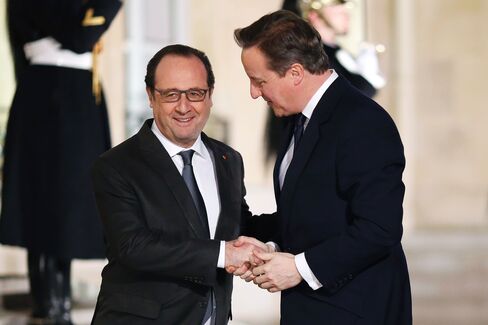 The French reckon the U.K. is playing foul, trying to win concessions Cameron was refused in 2011 at the height of the financial crisis, according to a separate EU official with knowledge of the negotiations. Back then, Britain boycotted a treaty on deficit and debt restrictions after Cameron's bid to protect the City of London's banks from EU regulations was rebuffed.
This time it's British membership of the EU at stake. Cameron has said he's ready to campaign to stay in the referendum that may come as early as June -- so long as the bloc endorses the banking shield alongside other reforms he thrashed out with EU President Donald Tusk this month. French opposition to Cameron's demands has support from several other EU members, the official said.
"Hollande is in a lose-lose situation because either Cameron gets all his opt-outs, freeing Britain up within the EU so Britain votes to stay, or he doesn't get them, Britain leaves and France has to deal with Germany on its own," said Stephen Clarke, a French-based British author of ''1,000 Years of Annoying the French.'' "Whenever there's a dispute like this, the Brits usually come out on top."
Long-Running Disputes
Cameron visits Brussels Tuesday to meet European lawmakers as he seeks to build support ahead of the summit while EU President Donald Tusk will hold talks with the leaders of Greece, the Czech Republic and Germany.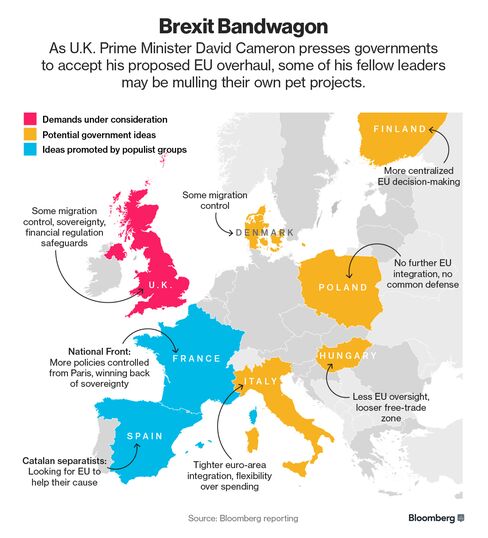 Tensions between France and Britain have been a regular feature of European history with Hollande's predecessor Charles de Gaulle twice vetoing the U.K.'s attempts to join the earlier incarnation of the EU in the 1960s. Only after the former general's death did Britain get to join the club in 1973.
The relationship didn't get any easier once Britain was in. Margaret Thatcher and Francois Mitterrand clashed throughout the 1980s about the EU's budget while the bloc's nascent attempts to create a common foreign policy were shredded by Tony Blair's and Jacques Chirac's opposing views on the Iraq War.
In 2011, as the European debt crisis exposed the flaws in the single currency, the relations between Cameron and then French President Nicolas Sarkozy boiled over. The two leaders argued over the right of non-euro nations to join meetings over Greece. Sarkozy told Cameron that if the U.K. wanted to be involved it should have joined the euro.
Cameron's push for EU reform was always going to climax in another standoff with France because it's in the interests of both governments to look like they're pushing their old rivals as much as they can, a senior EU diplomat said as far back as November.
"France and Britain have had two different views of Europe, ever since the common market," said Jean Dominique Giuliani, president of the Robert Schuman Foundation in Paris. "Cameron has an internal problem, a political one, and what he wants from Europe is not for Europe, it's to solve that domestic British problem -- everybody's ready to help but not by giving up what we've built."
Doing a Deal
Bank-regulation safeguards are not the only sticking point. The demand the U.K. be allowed to restrict social benefits for non-British EU workers remains contentious, Tusk said in a statement Monday after meeting Romania President Klaus Iohannis in Bucharest.
"This is a critical moment," Tusk said. "It is high time we started listening to each other's arguments more than our own."
France argues that the plan worked out between Cameron and Tusk would create advantages for banks based outside the euro area, according to the European official. The French insisted non-euro countries couldn't have a veto over EU legislation and there shouldn't be differences in bank standards, and they were supported by other nations both inside and outside the currency union, the official said.
"The French have a sense of exasperation with the British because they think the U.K. already does pretty well out of the European Union," said Paul Smith, a lecturer on French politics at the University of Nottingham. "But ultimately Hollande will want to do a deal because he wants to look statesmanlike."
Before it's here, it's on the Bloomberg Terminal.
LEARN MORE