Austria Is Fortifying Border Controls as Refugee `Plan A' Fails
Faymann says frontiers with Italy, Slovenia to be strengthened

Chancellor says Austria must `look reality in the eye'
Austria must protect its own borders and help countries along the "Balkan route" used by those seeking asylum to do the same because the European Union is failing to agree on a joint solution for the refugee crisis, Chancellor Werner Faymann said.
The country will fortify frontiers with Italy and Slovenia and step up checks to make sure it can deal with the pressure if the number of refugees starts rising again in the spring, Faymann said on Tuesday. It will start to apply EU asylum rules and turn back refugees arriving via countries that are considered safe, he said, because a summit later this week in Brussels still won't agree to Austria's proposals to distribute refugees across the bloc.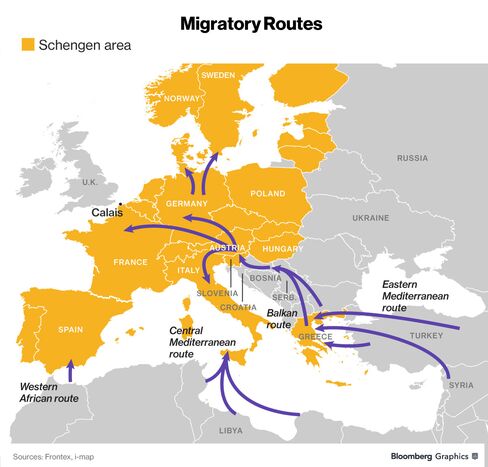 "Plan A isn't enforceable as Austria is proposing it, and it won't be this Thursday and Friday," Faymann told reporters after the weekly government meeting in Vienna. "Plan B is plan B, our sense for reality demands that."
Border installations will also be expanded at the Brenner crossing with Italy, to which Austria expects refugees to move in attempt to bypass routes from Slovenia. The country will try to make sure that freight transport isn't affected by the measures, Vice Chancellor Reinhold Mitterlehner said. Austria is taking a similar line to the Visegrad group of countries made up of Poland, Hungary, the Czech Republic and Slovakia.
"There is a consensus with the Visegrad countries that, as the protection of the outer borders is failing, it's become necessary to make safe the borders within" the EU, Faymann said. "It's an emergency solution that nobody has wished for, but we have to look reality in the eye."
Before it's here, it's on the Bloomberg Terminal.
LEARN MORE