Private Equity Pile Up Losses in Bet on Norway Oil Services
HitecVision stakes in Prosafe, Kvaerner down about 60%

Ferd holding in seismic surveyor PGS have fallen about 40%
Timing the bottom of the oil route has proved difficult for Norwegian private equity investors.
Investments of at least 1.67 billion kroner ($194 million) by HitecVision AS and Ferd AS in offshore-platform builder Kvaerner ASA, accommodation-rig operator Prosafe SE and seismic surveyor Petroleum Geo-Services ASA have lost more than 50 percent of their total value since they were made, Bloomberg calculations show.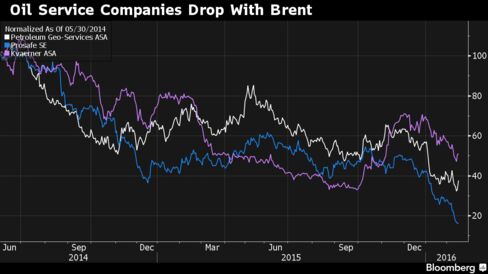 "It's always very hard to find the bottom," Peter Hermanrud, an analyst at Swedbank AB, said by phone. "But the horizon of a P.E. player can be a bit longer than the average portfolio investor."
Crude prices have fallen more than 70 percent since June 2014, dipping below $30 this year amid a persistent global glut of oil and higher uncertainty regarding economic growth in countries like China. Billions of dollars have been wiped out in equity value from oil producers and their service and equipment providers, with the Oslo stock exchange benchmark index falling to the lowest intraday level in more than two years last week.
That's created opportunities for investors looking to buy oil and gas assets on the cheap and willing to tolerate uncertainty in the short term. HitecVision and Ferd have been forced to weather a further drop in oil prices, in a weakening that Statoil ASA's CEO has said "probably surprised" most market participants. Total wagers on the price of crude earlier this month climbed to the highest since the U.S. Commodity Futures Trading Commission began tracking the data in 2006.
HitecVision in November bought 26.9 million Kvaerner shares at 8 kroner a share in November. It since boosted its ownership in Kvaerner to 16 percent last month from 11 percent in November, though it didn't disclose how much it paid for the additional stocks. Kvaerner on Tuesday extended losses to trade at 5.6 kroner a share as of 2:21 p.m. in Oslo, after saying it won't pay a dividend.
HitecVision bought 20.7 million Prosafe shares when the stock was about 25 kroner a share. It has since fallen to 8.3 kroner.
Ferd AS, billionaire Johan H. Andresen's family investment company, doubled its stake in PGS on Dec. 11, 2014 when the stock closed at 39.1 kroner, after the stock had fallen about 45 percent over the preceding 12 months. Ferd added 2.2 million more shares at 39 kroner apiece in November. PGS shares traded at 22.9 kroner.
Frode Sigurd Berg, Chairman of HitecVision's North Sea Strategic Investments AS, and Morten Borge, an Investment Director of Ferd Capital, didn't immediately reply to calls seeking comment.
Oil Focus
HitecVision, which manages five active private equity funds with a capital base of $5 billion, has invested in, acquired or established more than 150 companies since 1994, according to its website. Exited companies include Spring Energy AS, which was bought by Tullow Oil Plc for $372 million in 2012.
More recently, HitecVision in January merged three oil companies owned by funds it manages, investing a further 3.5 billion kroner into the new entity, Point Resources.
It's "extremely difficult" to say whether oil-service stocks have now bottomed out, Swedbank's Hermanrud said.
"Many will go through a big restructuring that will leave little to shareholders, but some will make it through," he said. "And those who make it through will typically be able to offer shareholders a fantastic return."
Before it's here, it's on the Bloomberg Terminal.
LEARN MORE