One Theory on Sweden's Inflation Forecasting Failures
It could be a deep-rooted bias that's holding the Riksbank back, SEB says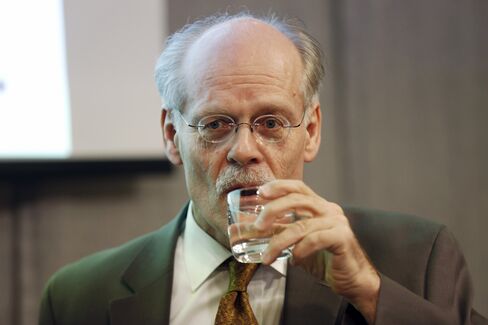 Sweden's central bank once again fell victim to what some call a bias toward higher inflation forecasts.
Less than two months after releasing forecasts that even in December seemed too optimistic to those outside the central bank, Governor Stefan Ingves last week cut rates and revised down his outlook for price growth. The Riksbank, which updates forecasts six times a year, has cut its headline inflation outlook for the year-ahead at 16 out of 19 meetings tracked by Bloomberg.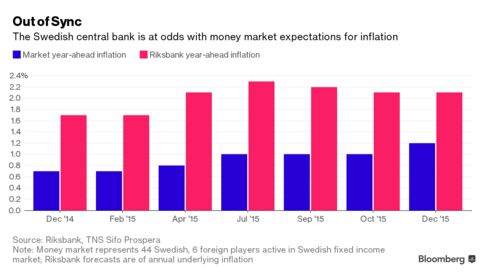 Some speculate that it's a flawed corporate culture that may be to blame.
``There's a bias toward making higher inflation forecasts that possibly has something to do with the cooperation climate,'' said Haakan Frisen, head of forecasting at SEB AB. Riksbank forecasters ``are simply giving poisoned gifts to the board,'' he says.
Former Bank of England Governor Mervyn King last month blamed the Riksbank's poor forecasting record on policy makers putting too much faith in computer-generated models and not enough in their own gut.
Though he's been proven wrong time and time again, Ingves last week denied any bias. ``We've revised down our forecasts a lot of times but it's not true that our forecasts are worse than a lot of other forecasts,'' he said.
The Riksbank last week predicted price growth reaching the 2 percent target by early next year, up from an annual 0.9 percent in December, according to data from Statistics Sweden. But those views are still out of sync with most observers.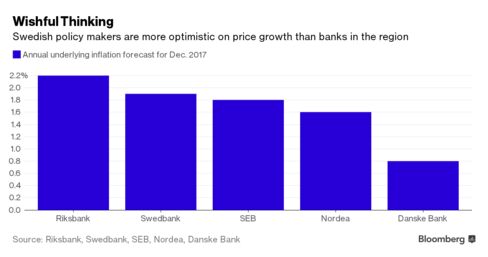 To be sure, Swedish policy makers aren't the only ones struggling to get their forecasts right. Central banks across developed markets are trying to figure out how oil prices and even technology gains will impact price growth.
Before it's here, it's on the Bloomberg Terminal.
LEARN MORE