Country needs 400 new engines and 5,000 wagons, minister says

Chinese-built high-speed train won't hurt budget, Jonan says
Indonesia will purchase around 400 locomotive engines from either General Electric Co. or Electro-Motive Diesel Inc. as it expands its rail network, the transport minister said.
The government's progress toward a target of building 3,258 kilometers (2,025 miles) of new track by mid-2019 has been slow so far, but it remains achievable, said Ignasius Jonan, in an interview last week. In 2015, the government built 250 kilometers, and it is planning to quicken the pace with up to 700 kilometers more this year, he said.
"As long as the budget is there, I will commit to the target," said Jonan, who led the state rail company PT Kereta Api Indonesia for five years before becoming a minister in 2014. "We will speed up. Going from zero to one is the most difficult thing in infrastructure. From one to five is a lot easier," he said.
After years of under investment, President Joko Widodo has ordered increased spending on railways, roads and ports to drive growth in Southeast Asia's largest economy. The government can pay for around 30 percent of its estimated infrastructure bill of $400 billion, and wants private investors and multinational organizations including the China-led Asian Investment Infrastructure Bank to fund the rest, Widodo said in an interview on Feb. 11.
Colonial Railway
Indonesia's rail network was built under the supervision of its Dutch colonial rulers but since independence in 1945 successive governments have allowed it to wither. According to the World Bank, the archipelago had 4,684 kilometers of track in 2014, down from 6,458 in 1981. India has more than 65,000 kilometers of track.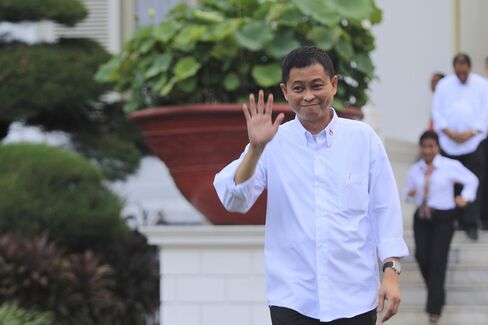 Jonan said the expansion plan would require some 400 new locomotive engines, up from the current stock of 550, and around 5,000 new wagons.
The government has awarded the country's first high-speed train link to a Chinese-led consortium including several Indonesian state-owned companies, after turning down a rival Japanese bid. Construction has yet to begin on the link between the capital Jakarta and the city of Bandung, because the consortium has yet to apply for the permits it requires, Jonan said.
Lawmakers have expressed fears the high-profile project will end up being a burden on the state budget. The Japanese bid was rejected because it required a state guarantee, whereas the government said the Chinese offer was a purely business-to-business deal.
"They have been thinking if the high speed train collapses then the government will eventually give a hand to help," Jonan said. "We are crafting the concession agreement carefully, so there isn't even a small hole that would allow government help if in the future the operation collapses financially."
Before it's here, it's on the Bloomberg Terminal.
LEARN MORE