Bank Failure Fallout Should Be Spread Thin and Wide, Lenders Say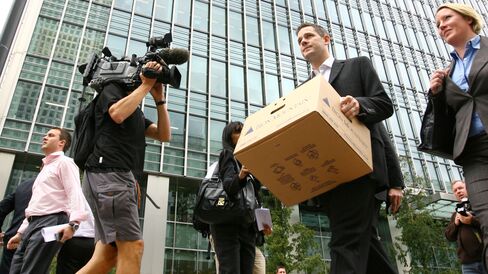 `Moderate contagion' across wide population better, banks say

European bank lobby asks Basel Committee to allow TLAC holding
Global bank regulators should allow "moderate" contagion to spread across the financial system should one of the world's biggest lenders fail, preventing a fatal blow hitting the unregulated, non-bank part, a European bank lobby organization said.
The Basel Committee on Banking Supervision should allow less-connected banks to buy the debt of the world's globally systemically important banks, even if the securities are designed to take losses in a collapse, the European Banking Federation said. The group commented on the committee's planned rules for total loss-absorbing capacity, or TLAC.
QuickTake Capital Requirements
"Contagion itself cannot be eliminated," the EBF said. "It may be preferable to allow moderate contagion effects across a wide population rather than to concentrate the effects on a smaller population, where it is more likely to prove 'fatal'."
The Financial Stability Board set out the criteria for TLAC-eligible bonds last year, seven years after the collapse of Lehman Brothers Holdings Inc. roiled the global economy, to ensure giant lenders can be wound down and recapitalized in an orderly way and without taxpayer bailouts. The move, which applies only to the world's 30 biggest banks, makes new sources of capital available following a collapse by allowing the senior unsecured bonds of the failed lender to be converted to equity or written down in much the same way as already occurs with the notes of a non-financial company that goes bust.
It is "axiomatic" that holders of loss-absorbing securities must suffer losses if TLAC-eligible notes are bailed in, the EBF said.
The banks will need to add as much as 1.1 trillion euros ($1.2 billion) in eligible liabilities and capital instruments in the coming years, according to the FSB.
That amount would be harder and more expensive to raise if the Basel Committee goes ahead with its plans to penalize all banks for owning TLAC-eligible debt, the EBF said. If banks' ability to buy such notes is curtailed, more TLAC-eligible senior bonds will have to be absorbed by entities such as hedge funds or pension funds, it said.
"Whilst this may meet the narrow aim of preventing contagion from a failing bank to other banks, it will also concentrate the effects on the non-bank and often non-regulated sector, where the potential for 'fatal' contagion may be higher," the EBF said.
The lobby group said it supports Basel's plan for global banks that are themselves required to issue TLAC-eligible debt to be penalized if they own TLAC issued by other firms. Lenders that aren't required to issue eligible securities should only be subject to the large exposures regime, which would limit holdings of TLAC debt to the equivalent of 15 percent of their Tier 1 capital.
Before it's here, it's on the Bloomberg Terminal.
LEARN MORE