RBA's Stevens Puts on Poker Face as Traders Bet He'll Cut Rates
Swaps show at least one cash-rate reduction seen in 12 months

Aussie dollar second-weakest among G-10 currencies this year
Australia's rates traders are extending bets on interest-rate cuts even as the central bank seeks to portray an image of calm amid global market turmoil.
Governor Glenn Stevens's message in testimony Friday was that the Reserve Bank of Australia remains in wait-and-watch mode, assessing the domestic impact of a rout that's wiped more than $8 trillion from equity markets worldwide. Swaps show traders are less sanguine, projecting the cash rate will be at 1.69 percent in a year from the current record-low 2 percent. There's a 51 percent chance of a reduction within three months, data compiled by Bloomberg show.
Australia has the flexibility to ease policy further if that will aid the economy, Stevens said, as he gauges the sustainability of recent jobs strength against the potential impact of global market upheaval on demand. Australia's dollar, which has slumped 30 percent over three years, is "adjusting" and the full impact from its slide is yet to flow through into prices, he said.
"Governor Stevens was trying to inject a sense of calm really, confirming that there is a soft bias to ease, but they don't expect to be acting on that any time soon," said Patrick Bennett, a strategist at Canadian Imperial Bank of Commerce in Hong Kong. "If we saw the currency considerably stronger, for whatever reason, that may tip the RBA's hand, but as of now the currency is doing some of the adjusting for them."
It's not yet clear whether financial markets "dropping their bundle" would have a material negative effect on the economy and while the bank has room to ease, policy makers would only do so "should that be helpful," Stevens said. Recent concerns about China have been related to uncertainty about the intentions of policy makers in the nation, he said.
The follow charts look at market bets for monetary easing in Australia and the impact of global equity declines on the Australian dollar as well as the currency's effect on inflation.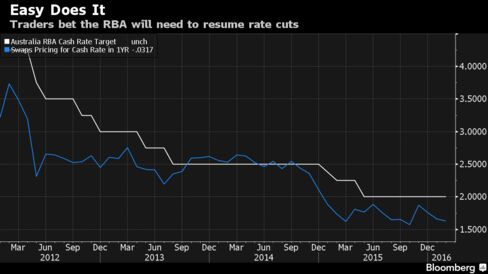 CHART 1: Traders are maintaining bets for interest-rate cuts by the Reserve Bank.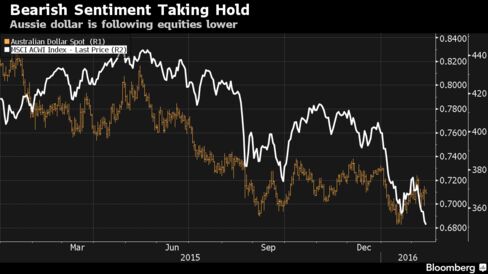 CHART 2: The Australian dollar fell to an almost seven-year low of 68.27 U.S. cents on Jan. 15 amid turmoil in global equity markets. It is down 2.4 percent so far this year, the weakest after New Zealand's kiwi among Group of 10 currencies, and traded at 71.13 cents as of 10:30 a.m. in Sydney on Monday.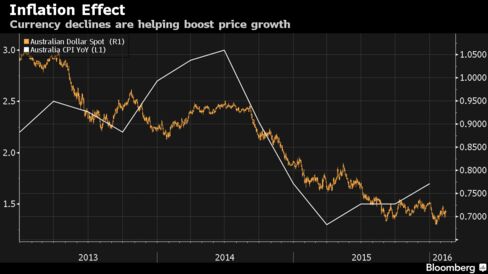 CHART 3: The annual pace of consumer price gains accelerated in the final quarter of 2015 as the cost of goods and services influenced by imports climbed. The Aussie dollar dropped 11 percent in 2015.
Before it's here, it's on the Bloomberg Terminal.
LEARN MORE