Financial Shares Lead Rally in U.S. Stocks, Halting 5-Day Drop
JPMorgan gains 8.3% after Jamie Dimon buys shares of bank

Kinder Morgan, Marathon Oil gain as crude prices recover
U.S. stocks advanced, with the Standard & Poor's 500 Index snapping its longest losing streak since September, as crude prices rebounded and data showed retail sales increased for a third month in January.
Financial, raw-material and energy stocks led the the S&P 500 higher, as the benchmark gauge added 2 percent to 1,864.78 at 4 p.m. in New York. The measure retreated for the fifth straight day yesterday, closing 14 percent below its all-time high set in May and near its lowest level in two years. The Dow Jones Industrial Average advanced 313.66 points, or 2 percent, to 15,973.84 today, while the Nasdaq 100 Index added 1.4 percent.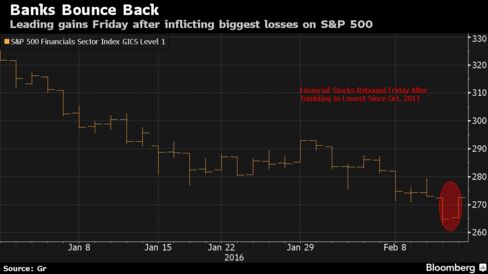 Data on Friday also showed consumer sentiment declined in February to a four-month low as declining stock prices and weaker global conditions weighed on Americans' views of the economy. Investors are monitoring economic reports after a tumultuous week in U.S. equities. Concerns over everything from slowing growth in China, plunging crude prices to the pace of the Federal Reserve's interest-rate hikes have sparked a flight out of risky assets, sending global equities lower yesterday to a level that constitutes a bear market.
"Everyone is looking for a time to buy," said Phillip Titzer, who helps oversee about $1.4 billion as vice president of investment operations at Edgar Lomax Co. in Springfield, Virginia. "This might just be some investing of some cash with people thinking prices look good now. Oil is up and so many times we see oil go up and stocks go up."
Even with the rebound today, U.S. stocks still posted a second week of declines, losing 0.8 percent since Feb. 5. This is the fifth Friday in a row the S&P 500 has swung 1.8 percent or more. Such a stretch of volatility on the last day of the week has never before occurred since the Great Depression. The U.S. stock market will be shut Monday, while markets in mainland China are set to reopen after the Lunar New Year holiday.
"We have a decent number of retail sales and it will likely set the tone for the morning," said Eric Wiegand, senior portfolio manager at the Private Client Reserve of US Bank in New York. "If there is optimism on these releases, it will be guarded. No single data point is sufficient to offset the concerns that have been growing."
Banks, which have been the biggest source of pain for U.S. stocks in the market's latest rout, led gains for their steepest rally since November 2011. JPMorgan Chase & Co. added 8.3 percent after chairman and chief executive officer Jamie Dimon spent $26.6 million on shares. Bank of America Corp. and Citigroup Inc. also climbed at least 7.1 percent.
Energy stocks also gained as oil surged the most in seven years. Kinder Morgan Inc. and Marathon Oil Corp. climbed more than 6.9 percent.
Wynn Resorts Ltd. surged 16 percent after reporting fourth-quarter earnings that beat analysts' projections as revenue growth in Las Vegas partially offset a decline in the Macau business.
American International Group Inc. climbed 4.9 percent, the most since May 2013, after announcing a $5 billion share buyback and boosting its quarterly dividend. The insurance company that is battling demands from activist investor Carl Icahn also reported a fourth-quarter operating loss of $1.10 a share, wider than estimates.
Groupon Inc. surged 29 percent after posting quarterly profit that topped projections, while Square Inc. jumped 7.9 percent after BTIG LLC said the mobile-payments service provider may be a takeout target after Visa Inc. bought 9.99 percent stake.
Activision Blizzard Inc. tumbled 7.9 percent after reporting fourth-quarter revenue and profit that fell short of estimates, in part due to lower-than-expected purchases of its Skylanders and Guitar Hero video games.
The U.S. earnings season, now more two-thirds complete, hasn't provided much relief. Although more than three-quarters of results have so far exceeded analysts' earnings expectations, less than half have beaten sales forecasts. Analysts estimate earnings at S&P 500 companies fell 4.5 percent in the fourth quarter, better than Jan. 15 predictions for a 7 percent slump.
While the S&P 500's valuation of 15.5 times the forecast earnings of its members is in line with the average of the past five years, the measure remains more expensive than the Stoxx Europe 600 Index, which trades at about 13.9 times estimated earnings.
Before it's here, it's on the Bloomberg Terminal.
LEARN MORE