Turnbull to Reshuffle Australia's Ministry After Robert Resigns
Malcolm Turnbull will reshuffle his ministry after the resignation of Human Resources Minister Stuart Robert, the third member of the Australian prime minister's senior team to announce a departure this week.
Robert, 45, stood down after Turnbull launched a probe into revelations the minister promoted an Australian company's business interests while on vacation in China, leading to accusations by the Labor opposition that he breached protocol through a conflict of interest. While the probe concluded the minister acted inconsistently with ministerial standards, the investigator accepted that Robert "may not have intended to do so," Turnbull said in an e-mailed statement Friday.
"Robert has asked me not to consider him in the pending reshuffle of the ministry," Turnbull said. Robert was also minister of veterans' affairs.
Turnbull must announce a new ministry just five months after winning the leadership and ahead of elections later this year. The infrastructure portfolio is also vacant after Deputy Prime Minister Warren Truss announced he was retiring from the role. Truss resigned as leader of junior coalition partner the Nationals on Thursday, with Barnaby Joyce being promoted to lead the party and also assuming the role of deputy prime minister.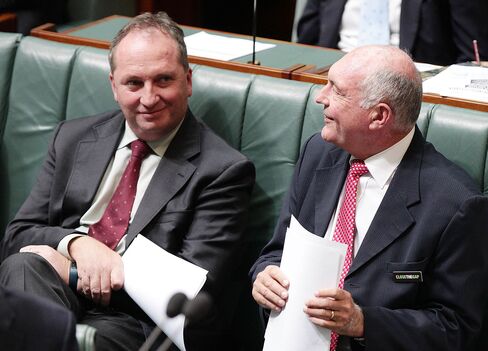 Trade Minister Andrew Robb has also announced his intention to retire at the election, due this year.
Before it's here, it's on the Bloomberg Terminal.
LEARN MORE