Norwegian Sovereign Fund Bought Credit Suisse Shares This Week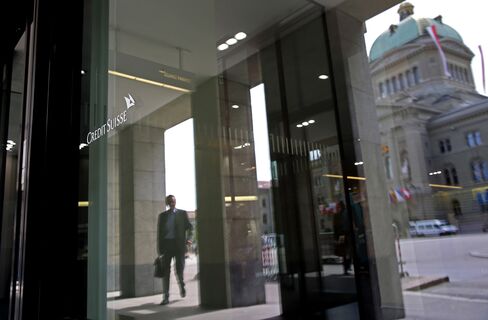 Credit Suisse Group AG's biggest shareholder, Norway's sovereign-wealth fund, expanded its stake during a selloff that brought shares of the Swiss lender to a 27-year low.
The $790 billion fund managed by Norges Bank increased its holding Monday from just below 5 percent to 5.03 percent, the Swiss stock exchange said in a filing Friday. Swiss regulations require disclosure when a stake rises or falls above or below specific thresholds, including 5 percent.
Credit Suisse reported a worse-than-expected fourth-quarter loss of 5.8 billion Swiss francs ($5.9 billion) on Feb. 4, accelerating declines in the stock, which tumbled 40 percent this year, including this week's 12 percent drop.
Switzerland's second-biggest bank is undergoing a global overhaul that started with a 6 billion-franc share sale in the fourth quarter. While global economic fears are partly to blame for the slide in the bank's stock, Zurich-based Credit Suisse also is suffering from a gap in confidence that it can execute its turnaround, Chief Executive Officer Tidjane Thiam said this week.
Thiam, 53, said during a panel discussion at the World Economic Forum last month that sovereign-wealth funds were dumping assets, contributing to turmoil in global markets. Oil-rich nations burned by the rout in crude have some of the world's biggest wealth funds.
Norges Bank said last month that it was not joining the fray. Officials who supervise the fund haven't even discussed the possibility of shifting strategy, Egil Matsen, deputy governor of the central bank, said in a Jan. 21 interview.
"There's no indication that we need to sell assets now, not at all," Matsen said. "The governance structure around our sovereign-wealth fund is actually designed to live through such periods."
Norges Bank Investment Management doesn't comment on investments in individual companies, said Thomas Sevang, a spokesman. Credit Suisse also declined to comment.
The Norwegian fund is the biggest shareholder of Credit Suisse, followed by Qatar's sovereign-wealth fund, according to data compiled by Bloomberg.
Before it's here, it's on the Bloomberg Terminal.
LEARN MORE