Gold Rush Speeds Up as Fear Mounts
Investors scoop up precious metals, Treasuries, and money markets.
With indexes such as the S&P 500 having one of their worst starts to a year ever, some investors have predictably turned to so-called safety plays, such as gold, Treasuries, and money markets. But what was a jog in that direction last month may be turning into a headlong run.
QuickTake The Rise and Fall of Gold
According to Bank of America Merrill Lynch's most recent report on client flows, last week can be defined as a "gold rush" as precious metals saw the second-largest inflows in almost six years. This comes as gold in particular has been a standout in 2016, rallying to 12-month highs.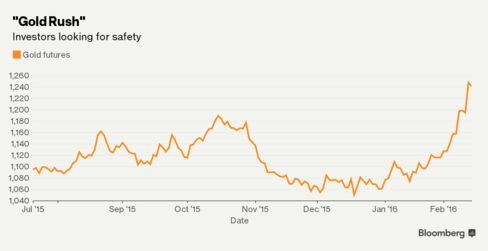 Bank of America Corp.'s report, from a team led by Chief Investment Strategist Michael Hartnett, also found that other safe havens saw large inflows. Some of the numbers include $24.3 billion into money markets, $3.6 billion into Treasuries and munis, and $1.6 billion into precious metals.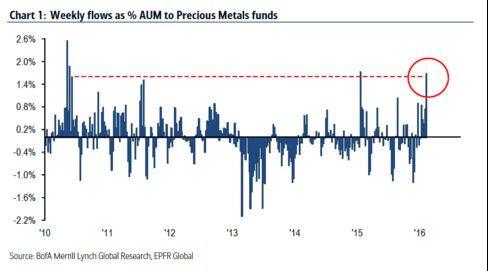 On the flip side, a number of riskier areas saw investors retreating. "Outflows from risk: Equities ($6.8B – redemptions from all regions), High Yield ($2.5B) and Emerging Market debt ($1.1B)," the report said. Health care and biotech, which have been hit particularly hard in 2016, have seen their second-largest outflows in four years, the survey showed. Financials have also seen investors fleeing as banks, particularly those in Europe, have taken a beating.
While these extremes may mean there will soon be light at the end of the tunnel, the team isn't convinced we've seen the worst of it.

"Bottom-line: cash is high, markets are oversold & clients are rhetorically bearish … but frustratingly, flows don't yet reveal true investor capitulation," they write. "Watch Feb'16 Fund Manager Survey [another survey from Bank of America] next Tuesday for fresh evidence of investor panic. Until then, we remain sellers of any and all counter-trend rallies unless profit/growth expectations can reverse higher or we get a big-bang coordinated global policy response."
Before it's here, it's on the Bloomberg Terminal.
LEARN MORE