Bullion advances in 2016 on global stock rout, negative rates

Miners head for highest close since July on gold price
Gold's explosive start to 2016 has lifted prices to the highest level in a year as investors flee a bear market in global stocks, a weakening dollar and the fallout from the spread of negative interest rates.
Futures in the metal posted the biggest weekly jump in seven years even as prices fell on Friday, while a measure of gold mining shares was poised for the highest close since July. Producer Barrick Gold Corp. has surged 65 percent this year, after five straight annual losses, while Newmont Mining Corp. is up 44 percent and is the top performer on the Standard & Poor's 500 Index of equities.
QuickTake The Rise and Fall of Gold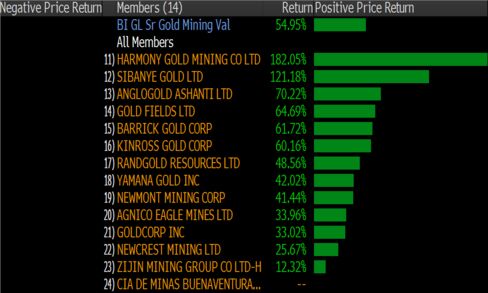 Investors have bolted back to gold after the metal suffered three straight years of losses as a souring global economy, led by concerns over Chinese growth, pummels stock prices. The turbulence has eroded expectations that the Federal Reserve will raise interest rates this year, hurting the dollar and adding to gold's allure.
"Gold's been like a hurricane drawing strength from different sources as it swept higher," Andy Pfaff, chief investment officer for commodities at MitonOptimal Group, said by phone from Cape Town, after closing a long position in gold following its peak late on Thursday. "It's all been very favorable for gold."
'Financial Problems'
Bullion climbed 7.1 percent for the week, the biggest such gain since December 2008. Gold futures for April delivery slid 0.7 percent to settle at $1,239.40 an ounce at 1:48 p.m. on the Comex in New York.
Investors have poured funds into bullion-backed exchange-traded products in 2016, reversing a tide that saw assets shrink for three straight years. The holdings increased 1 percent to 1,587.5 metric tons on Thursday, the highest since July, according to data compiled by Bloomberg. They've expanded 8.6 percent this year.
Gold's ascent has been so rapid that analysts may been forced to reassess their targets.
"The black-swan-esque panic that engulfed the markets this week has driven gold up faster than even the most bullish could have hoped for," said Adam Finn, head of precious metals at Triland Metals in London. "A retracement downwards from here is highly likely and the subsequent strength of the dip buying should tell us much more about how willing the inflows are of staying in the trade."
The Philadelphia Stock Exchange Gold and Silver Index rose 3.1 percent Friday, heading for its highest close since early July.
"Our existing end-2016 forecast for the gold price is $1,250 per ounce," said Julian Jessop, head of commodities research at Capital Economics Ltd. "We will probably be revising it up."
A Bloomberg survey showed analysts and traders were bullish for a sixth week.

Comex volume in gold was 20 percent above the 100-day average for the time of day.

Silver futures for March delivery fell less than 0.1 percent to $15.79 an ounce. On the New York Mercantile Exchange, platinum declined, while palladium gained.


Before it's here, it's on the Bloomberg Terminal.
LEARN MORE