Bogeyman's Bond Rout Gives Rajoy Ammo for Spain Attack Next Door
Acting PM says Portuguese borrowing costs are a warning

Spain is still without a government since Dec. 20 election
The bond market rout in Portugal just spilled over into the political fight in Spain.
Spanish Prime Minister Mariano Rajoy cited surging funding costs next door as a warning for what could happen if his country's next government can't reassure holders of its 790 billion euros ($895 billion) of debt that it's a responsible steward of public finances.
Yields on 10-year bonds in Portugal have been rising since a new administration there was named in November and promised to ease on austerity measures. They jumped by the most in 2 1/2 years on Thursday to above 4 percent. In Spain, Rajoy is battling for his political future and is using that as ammunition to attack his Socialist party opponent, whose options include forming a pact with the anti-austerity party Podemos.
"When you have radical governments and governments of these characteristics, it ends up causing problems for the country and for all its citizens," Rajoy said at a news conference in Madrid on Thursday. He said his proposals to remain in office would help Spain avoid "having problems like those that I mentioned earlier of some country that is seeing its risk premium at 400 basis points today."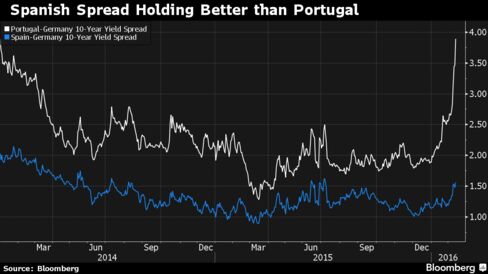 After almost two months of post-election stalemate in Madrid, political leaders are still searching for a combination of parties that can form a government.
Spanish King Felipe VI last week invited Socialist leader Pedro Sanchez to try find a viable solution after Rajoy said he didn't have enough support to maintain control of parliament. As well as Podemos, Sanchez is also reaching out to the pro-market Ciudadanos party and will meet Rajoy on Friday to discuss his plans.

Scare Tactics


Portuguese 10-year bonds meanwhile reached the highest since the country exited its bailout program in May 2014, putting pressure on the minority Socialist government of Antonio Costa three months after it took office in Lisbon as the European Commission examines its budget proposals.
Spanish 10-year bonds yield 1.79 percent, near where they stood at the end of 2015, even as the commission questions Rajoy's budget math as overly optimistic.
"What is happening in Portugal plays into Rajoy's hands," said Angel Talavera, an analyst at Oxford Economics in London. "He's using the Portuguese bogeyman to scare people and it allows him to win back some of the initiative."
Grand Idea
For his part, Rajoy is proposing pacts based around the need to protect Spanish growth, education and the welfare system and reform regional financing.
He champions a grand coalition led by him and including the Socialists and Ciudadanos, saying that the only alternative is a "radical" government including Podemos and parties that favor secession for regions such as Catalonia.
Rajoy points to Portugal, where Costa says he will rely on support from the Left Bloc, Communists and Greens to stay in power.
His government aims to reverse state salary cuts faster than the previous administration proposed and rely on higher indirect taxes to keep the budget deficit within the European Union's limit of 3 percent of gross domestic product through 2019.
The European Commission last week told Portugal to adopt measures to ensure its 2016 budget complies with the provisions of the EU's stability and growth pact, while stopping short of rejecting the plan. The government is also raising the minimum wage and reducing the working week for state workers in an attempt to remove some measures introduced during the bailout program.
Portugal is among only four sovereign-debt markets tracked by Bloomberg World Bond Indexes to lose investors money this year through Wednesday. Spanish debt eked out a return of 0.3 percent.
"We will do everything in the execution of the budget to prevent the risks and for confidence to return,'' Costa said on Thursday.
Before it's here, it's on the Bloomberg Terminal.
LEARN MORE