Another Marathon Record Could Fall This Spring... Indoors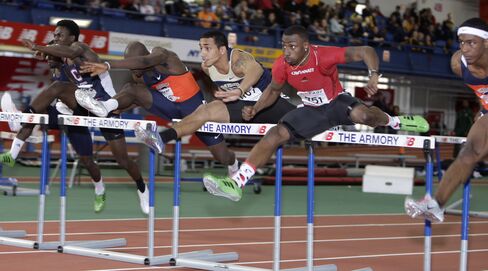 April charity event plans to follow JPMorgan Chase formula

World record could be broken at century-old Manhattan venue
New York City's century-old Armory is planning to add an audacious event to its already-busy track season -- a multi-day series of indoor marathons pitting corporate teams running against each other for charity.
An indoor marathon. That's more than 200 laps around the Armory track, where it takes eight go-rounds to complete a mile. As many as forty teams will compete in each of the four-hour blocks, in groups of two, four or eight.
The non-profit Armory Foundation is, in part, modeling the planned April 8-10 event on the wildly successful JPMorgan Chase Corporate Challenge, said Jonathan Schindel, the Armory's new executive vice president. That annual competition, held in more than a dozen cities, drew some 250,000 entrants from 7,677 companies in 2015.
"I'd seen that masses of people do that, and thought, 'There's something there we can learn from,"' Schindel said. "It really helped trigger the idea of an indoor marathon as a relay."
Militia to Millrose Games
The Armory, situated in an gentrifying low-income neighborhood in upper Manhattan, was built in 1909 to house state militia units before ultimately becoming a track and field hub during the middle of last century. During the 1980s, its surface was covered over by more than 1,800 beds after it was designated a homeless shelter by the city. Now renovated with a state-of-the-art banked track, media center and the US National Track and Field Hall of Fame, it hosts more than 100 meets a year. The crown jewel in the schedule is next week's Millrose Games, an annual showcase of the world's fastest runners, strongest throwers and best jumpers -- as well as serving as the city's largest after-school activities center.
The NYC Indoor Marathon is the brainchild of two generations of the revitalized Armory's leadership, including 73-year-old President Norbert Sander, winner of the 1974 New York City Marathon and the main force behind the building's return to a sporting center in the early 1990s. He's collaborating with Schindel, 51, a former co-captain of Duke University's undergraduate cross-country team who gave up a lucrative career managing money on Wall Street to join the Armory full-time earlier this year.
The pair, along with chief operating officer Rita Finkel, were looking for a way to increase funding for the Armory College Prep program, which works with more than 150 New York City high school student-athletes a year to navigate getting into, and paying for, college.
"Some of these kids have never heard of college, so we introduce the idea, we take them to see what it looks like," Sander said. More than 90 percent of College Prep seniors have been accepted to college in each of the past five years.
"It's nice to ask people for more contributions and donations," Schindel said, "but we thought it would serve our purpose to have a high-profile corporate event that had a lot of novelty, and to raise our profile in that crowd."
Soft World Record
Schindel and Sander are busily pitching sponsors and would-be competitors. The Armory's two biggest existing backers are New Balance, and the New York Road Runners, the running club that puts on the five-borough New York City Marathon every November. New York Road Runners is the organizer of the Millrose Games, which will be held this year on February 20.
The U.S. is scheduled to select its Olympic marathoners tomorrow in Los Angeles. Competitors including Meb Keflezighi, winner of the 2014 Boston Marathon, are expected to contend for the team.
Among the selling points for the proposed event is the reasonable possibility of breaking the indoor marathon world record, considered "soft" by those in the know -- 2:27:21 for men and 2:53:53 for women. (The outdoor records are 2:02:57 and 2:15:25, respectively).
The Armory appears made for record-setting. On Feb. 6 at the Armory Track Invitational, Virginia's Drew Hunter set a new American high school record for the mile at 3:58:25. He broke the 15-year-old mark of 3:59.86, set by Alan Webb, on the same track.
An indoor marathon also leverages the prestige of the 26.2 mile distance. "There's something mythic about the marathon," Schindel said. "This makes it more accessible for those who aren't in a position to do one. For those who have done marathons, it's a nice twist."
* A previous version of the story incorrectly stated the women's outdoor record time.
(
Adds Olympic competitors selection date in the 11th paragraph.
)
Before it's here, it's on the Bloomberg Terminal.
LEARN MORE