'Dear David' - Merkel Tries to Romance Cameron and Save EU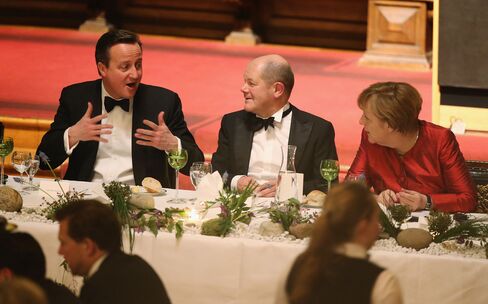 Chancellor woos PM with candles and dumplings in Hamburg

U.K. leader wins ovation in Rathaus after renewing EU vows
Two days before Valentine's Day, and in Hamburg, a couple were having a candlelit dinner to try to sort out their differences. Angela Merkel, worried that David Cameron might be about to walk out on her -- and Europe -- was taking the tried and tested route to a man's heart: through his stomach.
What man, after all, wouldn't be prepared to give things one more chance after being wooed over smoked eel and potato dumplings?
So the chancellor, along with 370 of Hamburg's civic dignitaries, sat the prime minister down and told him what he means to them. He means trade, he means stability, and most of all he means not precipitating another European economic crisis by leaving.
"Dear David," Merkel began her speech -- a touch formal for a reconciling couple perhaps, but she soon warmed up. The ability of the European Union to make compromises was "existentially important," Merkel said -- and then came the big pitch: "I wish for the U.K. to remain an active member of a successful EU."
Better Together
It wasn't quite Al Green singing "Let's Stay Together," but it went down well in the Rathaus, as the city's town hall is known. Diners greeted the statement with loud, sustained applause.
Cameron, of course, also wants Britain to stay in the EU, and has only promised a referendum on leaving in an attempt to sustain an even more difficult relationship, the one he has with the Conservative Party that he leads.
"I never want us to pull up the drawbridge and retreat from the world," he said in response to Merkel. "Just as I believe that Britain will be safer and more prosperous in a reformed EU, so too will Europe benefit from keeping its second-largest economy, its largest defense power, a major diplomatic force in the world, and, of course, its second-largest financial contributor."
His speech was greeted with a standing ovation and even cheers. Hamburg sees itself as the most British of Germany's cities, with links going back to the 13th century. Just over 100 years ago, Britain's King Edward VII visited, in an attempt to strengthen ties between the two nations. It would be hard to describe the effort as a total success: World War I broke out not long afterwards.
All Over?
Undeterred by that precedent, the city's mayor, Olaf Scholz, weighed in on Merkel's side. In a bid to get the romance back on track, he quoted the philosopher Immanuel Kant, little-used on Valentine's Day cards. "Others have the tendency of not doing what we want them to do," he said, summing up the problems of men, women and trading blocs down the millennia.
Even in the best relationships there are sore points, and as he closed, Scholz raised one of them. It's 50 years since England's soccer team beat West Germany to win the World Cup, following a disputed decision that gave England its third goal. Germany -- along with England's traditional enemy, Scotland -- has always insisted the ball didn't cross the goal line, and simply bounced out again.
Cameron's renegotiation of Britain's relationship with the EU, Scholz said, was similar. "The game is on, and the ball flies in the direction of the goal. This time, only the British will decide how it will end. Whether the ball is in or out. And this time we all hope that the decision is in."
Before it's here, it's on the Bloomberg Terminal.
LEARN MORE