Woeful Wal-Mart Gets Lift as Mexican Unit Stays Bullish on 2016
Weaker peso to spur remittances, CFO Farah says in interview

Walmex eyes sale of Suburbia apparel unit, e-commerce boost
Wal-Mart de Mexico SAB, a bright spot for its struggling U.S.-based parent company, will benefit this year as a weak peso spurs an increase in remittances while inflation remains in check, Chief Financial Officer Pedro Farah said.
Latin America's biggest retailer also plans to invest more in e-commerce and sell non-core businesses such as its Suburbia apparel unit as soon as this year, Farah said in an interview, his first since taking the CFO post in June.
"I'm very positive about this year," Farah, 55, said at Walmex's headquarters in Mexico City. "We're a bit of an island in the midst of a lot of instability."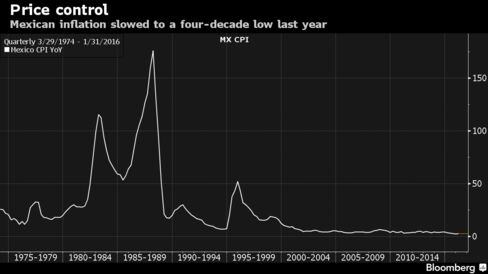 Mexico's retail sector enjoyed a resurgence last year thanks to slower inflation and growing remittances, as a cheaper peso enticed workers living abroad to send more money home. Same-store sales for Walmex, which already boasts more stores than any Wal-Mart unit outside the U.S., grew 6.4 percent last year, the most since 2006.
Growth Area
While parent Wal-Mart Stores Inc., the world's biggest retailer, has been struggling in international markets, including China and the U.K., executives have singled out Mexico as an area of growth. International business accounts for about 28 percent of the company's almost $500 billion in annual revenue.
Wal-Mart's sales worldwide have been slowing, and its profits are expected to fall as much as 12 percent this year due to higher labor costs in the U.S and spending on its Web operations. That's sent its shares down about 25 percent over the past 12 months.
By contrast, Farah sees improvements in Walmex this year, including at Sam's Club, which suffered from sluggish sales before rebounding in 2015. Remittances reached $24.8 billion last year, the most since 2008, as the peso weakened 14 percent. The currency has only continued to depreciate this year, falling an additional 10 percent, making it the worst performer among major currencies.
"This is not the highest dollar remittances we've had," said Farah. "The fact they can translate it to more pesos is an enticement for the people to send more. It could get even better."

Differing View
Not all investors and economists are buying Farah's view that consumer spending will get a boost as prices remains subdued. Last year inflation slowed to a more than four-decade low.
"We see a pick-up in inflation," said Ramse Gutierrez, a Mexico City-based fund manager for Franklin Templeton Investments. "There's pass-through" from a weakening peso into consumer prices.
Walmex, which serves Mexico and Central America, seeks to boost e-commerce to 1 percent of sales from the current 0.2 percent. It plans to reach that goal in coming years to compete with online retailers like Amazon.com Inc., which announced its entry into Mexico last year, Farah said.

Potential Buyers
Farah, who was born in Brazil and joined Walmex after serving as CFO for Wal-Mart Latin America, said interest is "very high" from potential buyers of Suburbia. Some proceeds from the sale, which was announced last month and could take place this year, would go to investors, he said.
"We're fairly confident we'll be able to sell now," Farah said. "It will take us four to six months to negotiate a deal. Then it's in the hands of the regulatory authorities."
Walmex's shares soared 37 percent last year, recovering from a plunge that followed a New York Times report in 2012 that alleged executives paid bribes to Mexican officials. The report sparked a federal probe in the U.S.
The stock touched a record high on Feb. 5 after Walmex reported same-store sales jumped 9.7 percent in January from a year earlier, more than the 8.6 percent for the entire retail sector, as measured by the Antad trade group. The company will report fourth-quarter earnings on Feb. 16.
"A lot of things we have this year are better than last year," Farah said. "While we expect the whole market to continue to be fairly healthy, my expectation is we're still going to be above our competition."
Before it's here, it's on the Bloomberg Terminal.
LEARN MORE