Sweden's `Provocative' Central Banker Looks After His Own Patch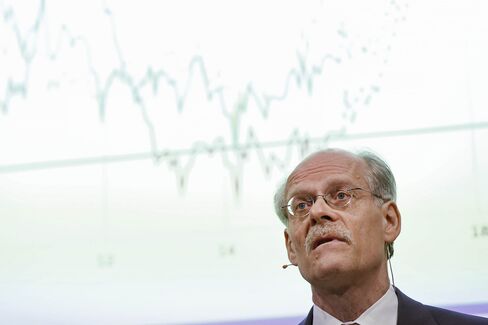 Riksbank cuts rates as inflation target remains elusive

Ingves denies "race to the bottom" as negative rates spread
Stefan Ingves isn't a man to be swayed.
Already branded a "sadomonetarist" by Nobel laureate Paul Krugman, the 62-year-old governor of Sweden's central bank cut rates to a record low of minus 0.50 percent, ignoring criticism from analysts and reservations within his own board.
"Provocative" is how Andreas Wallstroem, an economist at Nordea Bank, characterized the move.
With its 2 percent inflation target proving elusive, a reduction had been forecast by 10 of the 18 analysts surveyed by Bloomberg. But it was deeper than the median estimate of 0.45 percent. There's now talk of more cuts to come.
The decision brushed aside mounting doubts about the merits of negative rates, their impact on bank profitability and their effectiveness in boosting consumer price growth at a time of global uncertainty and sliding commodities. Critics are also arguing the bank is endangering financial stability by stoking house prices and consumer debt growth.
"What matters here is that we need to be careful that the krona doesn't appreciate too quickly," Ingves said in a Bloomberg TV interview after the decision.
Stimulus Unleashed
Ingves and his fellow policy makers are going all out in an effort to lift inflation and keep the krona from appreciating. They are being forced into further action as larger central banks, among them the European Central Bank, unleash their own record stimulus measures as they grapple with anemic growth and low inflation.
The Swedish krona slid as much as 1.6 percent against the euro after Thursday's decision. It's down around 3 percent since the Riksbank warned on Dec. 30 it stands ready to intervene in the currency market.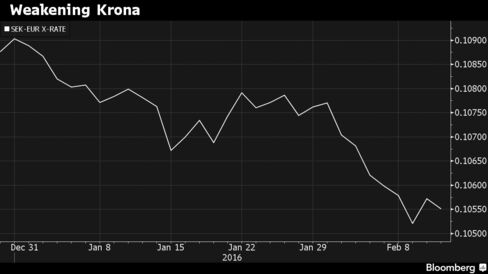 There's no shortage of experts arguing that Ingves' move will be just a short-term fix that simply adds to volatility. And with more and more central banks pushing rates below zero, talk of a "central bank war" and a "race to the bottom" are never too far away.
"I'm pretty sure all central bankers in different parts of the world are doing their utmost so that they can get to a situation where growth is good and inflation is where it's supposed to be," Ingves said.
His moves are being called into question because the Swedish economy is actually doing pretty well. The Riksbank forecasts gross domestic product will grow at 3.5 percent this year, while unemployment is falling. It's just that the improvements aren't feeding into inflation.
Short-term Fix?
According to Nordea's Wallstroem, the Riksbank has shown real determination in pursuing its inflation target against the odds. However, the effects of a weaker krona on inflation will only be temporary, he argued.
That view is shared by Hans Redeker. Morgan Stanley's head of FX strategy also argues that negative rates merely act as "a tax on banks." Eventually, banks will pass on the costs of negative rates to consumers, causing a vicious circle.
Ingves would have none of it.
"When it comes to Swedish banks, profit levels are very, very good," he told Bloomberg TV, "so at at this level that's not an issue."
Yet, sending rates deeper below zero was opposed by two of the bank's six board members, indicating a growing unease. Martin Floden and Henry Ohlsson both entered reservations. That mirrors a similar disagreement when it was raising rates in the aftermath of the financial crisis, the bank's "sadomonetarist" phase.
Ingves takes it in stride.
"We can't change the world," Ingves said. "We try to manage the situation as best as we can."
Before it's here, it's on the Bloomberg Terminal.
LEARN MORE