More Bucks, Less Bang in Store if Draghi Drives QE Higher
Quantitative easing could deliver disappointing returns when rates are already low and cash is cheap
The European Central Bank could ultimately be in for a let down if it ramps up its mass bond-buying program in March.
The charts below explain why adding to so-called quantitative easing will probably elicit diminishing returns — and why policymakers may do it anyway.
Rates are already rock bottom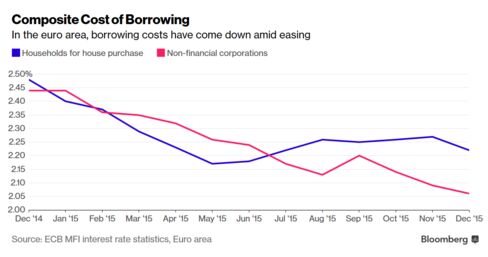 Quantitative easing can boost the economy by pushing down the interest rates that companies and households pay on loans. At its start, there was evidence that QE achieved this in the euro zone, as the chart above shows.

But cutting rates lower at this point might have little effect in boosting economic activity: Businesses that were waiting for low rates to borrow have probably already jumped into action, according to Carsten Brzeski, chief economist at ING-Diba in Frankfurt.
"Will corporations go out for a new loan if you cut rates from low to lower? The interest rate right now is not the issue,'' Brzeski said, explaining that factors like uncertainty and a lack of profitable investment options are the barriers holding investment back. "We're really at this point where more QE probably won't do any good.''
Currency reaction may be muted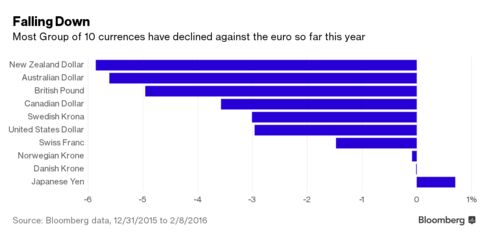 QE has in theory helped to bolster euro-area activity and inflation by decreasing the value of its currency. The logic here is simple: with the central bank pumping money into the financial system, the value of the euro falls. Consumers abroad can buy European products for less, creating a tailwind for exports and inflating import prices.
The immediate effect on the euro from more easing will hinge on what other central banks are doing and how markets respond to an ECB easing announcement.
At the Bank of England and the U.S. Federal Reserve tightening looks less and less likely, and that makes it tougher for the euro to fall. What's more, unless market expectations about any further stimulus delivered in March are significantly beaten, adding to purchases will probably create a less dramatic currency impact than the policy's 2015 implementation, said Ann-Katrin Petersen, vice president in global capital markets and thematic research at Allianz Global Investors.
Price mandate rules the day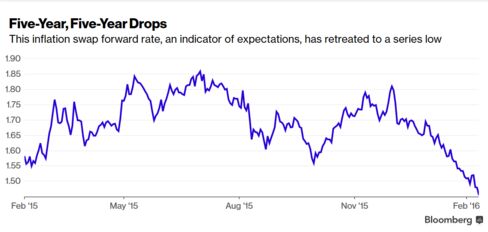 These efficacy-diminishing factors are a big concern, especially since swelling the central bank's balance sheet comes with financial stability risks, as Bundesbank President Jens Weidmann often points out.

Ultimately, though, there's a crucial reason why the ECB might ramp up its purchase pace or extend its horizon even in the face of diminishing effects: Inflation expectations are at risk of becoming de-anchored. Even though the five-year, five-year forward inflation swap rate charted above is no longer the ECB's preferred gauge of market expectations, they may still feel the need to signal that their inflation mandate will be defended.

"A diminished return is still better than no return, and I think President Draghi has made very clear that they're not ready to throw in the towel,'' said Jennifer McKeown, Senior European Economist at Capital Economics in London. "It needs to try to do something, and it can have some effect.''

Policy makers may have one reason for optimism if they roll out more QE: the impact of their negative deposit rate. This might actually compound the effects of bond-buying, as the ECB noted in its January monetary policy accounts - pushing rates below zero increases market participants' incentive to get out of safe government bonds and into riskier assets.

(
Corrects second graphic to indicate direction of euro. For more economic analysis, see Benchmark
)
Before it's here, it's on the Bloomberg Terminal.
LEARN MORE