Dimon Just Spent a Year's Pay on JPMorgan Stock After Bank Rout
Chief executive buys 500,000 shares for $26.6 million

JPMorgan stock advances the most in more than four years
Jamie Dimon, chairman and chief executive officer of JPMorgan Chase & Co., spent $26.6 million to buy shares of his bank Thursday after they tumbled to the lowest price in more than two years. On Friday, the stock surged 8 percent, the most in more than four years.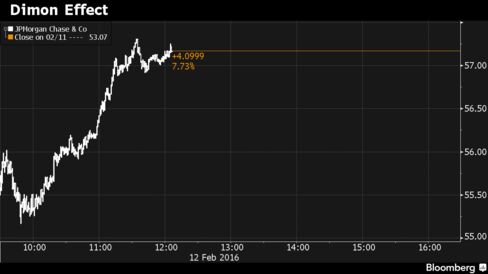 Dimon, 59, bought 500,000 shares, bringing his total holding to 6.75 million shares, according to a regulatory filing. He made the purchase because he believes the stock is cheap after a worldwide rout in equities, according to a person with knowledge of his thinking. JPMorgan, the largest U.S. lender by assets, had dropped 20 percent this year through the end of regular trading Thursday in New York.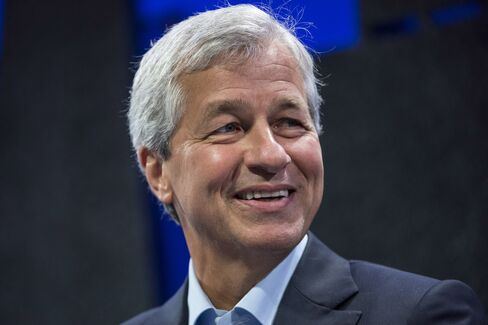 Other global banks including Citigroup Inc., Bank of America Corp., Credit Suisse Group AG and Deutsche Bank AG had all plunged more than 32 percent through Thursday. On Friday, the 24-company KBW Bank Index added 5 percent, led by JPMorgan, which also was the biggest gainer in the Dow Jones Industrial Average. The shares rose to $57.32 at 12:12 p.m. in New York, the biggest intraday advance since December 2011.
Executives can sometimes shore up confidence in their firms after purchasing shares in the open market. Citigroup CEO Michael Corbat and Chairman Michael O'Neill each bought about $1 million of their bank's shares on Jan. 22 after they fell to the lowest in more than three years. On Thursday, Citigroup Chief Financial Officer John Gerspach purchased 13,000 shares for about $489,000, according to a filing. Citigroup surged 7.6 percent on Friday, paring its 2016 decline to 27 percent.
Total Pay
A total of 699 officers and directors of U.S. companies purchased their own stock in the past 30 days compared with 828 who sold, the most bullish ratio in more than four years, according to data compiled by the Washington Service and Bloomberg and reported Wednesday. Stocks with the worst losses, such as financial firms, are seeing the biggest increase in demand. Howell D. McCullough III, the CFO of Huntington Bancshares Inc., snapped up 25,000 shares on Feb. 1 after the Ohio lender tumbled 22 percent to start the year.
Dimon's total compensation for 2015 was $27 million, mostly in stock units linked to the bank's future performance. That's a 35 percent raise from a year earlier as profit reached a record $24.4 billion.
Before it's here, it's on the Bloomberg Terminal.
LEARN MORE