Deutsche Bank Investors Get a Scare
An odd kind of bank bond called a CoCo starts to look shaky.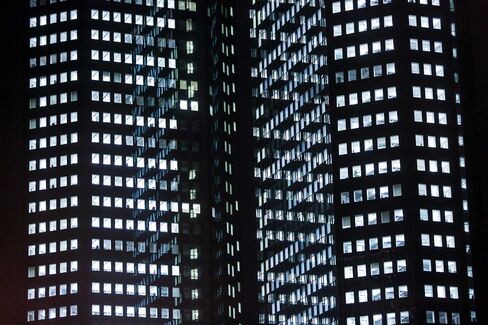 Shares in Deutsche Bank tumbled on Feb. 9 to their lowest point since 1992. The biggest thing driving investors' pessimism: a report from independent research firm CreditSights that said the Frankfurt-based bank might struggle to make its payments next year on contingent convertible bonds, also known as CoCos. Deutsche Bank took the unusual step of saying that it can make payments on the bonds for the next two years, and its shares rallied 4.6 percent on Feb. 10 on reports it might buy back some debt.
The shake-up put a spotlight on CoCos, which are no ordinary bonds. Until recently, the instruments mainly issued by European banks were the best bet on the global credit markets, generating returns of 8 percent in 2015, according to Bank of America Merrill Lynch index data. Their yields average a fat 7 percent when short-term rates in Europe are negative. But that's a reward for risk: The bonds allow banks to skip interest payments without defaulting or even convert the bonds into equity in times of financial stress—bad news for investors who had planned to collect their interest and principal.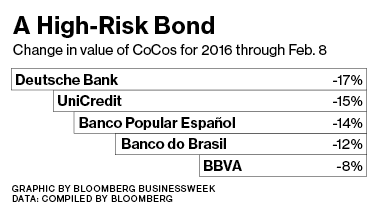 Now bond markets are paying attention to the downside. In less than six weeks this year, CoCo prices have dropped far enough to wipe out the 2015 gains. European banks are looking much less solid since their previous earnings reports. Deutsche Bank last month posted its first full-year loss since 2008. Credit Suisse Group—which hasn't been the focus of the same debt worries—in February reported its biggest quarterly loss since the financial crisis. Investment banking revenue in Europe is shrinking, even as tumbling oil prices, China's slowdown, and a global market rout are making the banks' loans and investments look riskier.
"The worries about these bonds represent real fears that the European banking system may be weaker and more vulnerable to slowing growth than a lot of people originally thought," says Gary Herbert, a fund manager at Brandywine Global Investment Management. "It's the epicenter of growth concerns globally. And it doesn't look pretty."
As risky as CoCo bonds are for their investors, they were designed to make the banks safer—or at least less likely to need a government bailout. Because the banks aren't obligated to make payments in a time of crisis, selling CoCos lets them raise money without increasing their ultimate risk of insolvency, at least the way regulators look at it. As a result, many CoCos have helped banks meet new, higher capital requirements.
Critics of the bonds say they are too complex and banks are too opaque. "Basically you have the upside of fixed income and the downside of equity," says Gildas Surry, a portfolio manager at Axiom Alternative Investments. He calls the bonds "instruments of regulators, by regulators, and for regulators."
Investors aren't concerned only about missed interest payments. The bonds can typically be bought back by the bank after five years, but this isn't required. Rising borrowing costs may make banks less likely to redeem, forcing investors to hold the bonds longer than they might have expected.
Banks have issued about €91 billion ($103 billion) of CoCos that regulators count as top-tier capital. They are relatively untested, and if a troubled bank fails to redeem them or halts payments, investors may jump ship quickly, potentially sparking a wider selloff in corporate credit markets.
For now, money markets show little sign of systemic debt concerns. One key indicator of fear is the two-year euro interest rate swap spread—the difference between what banks and governments must pay to borrow. The gap was 0.35 of a percentage point on Feb. 8, less than the five-year average of 0.49 of a point. The spread hit 1.26 points during the financial crisis.
That's not reassuring CoCo investors. "In a normal market, this would be a great time to buy, but everyone is afraid to step in," says Tom Voorhees, a bond trader at Brean Capital. "Everyone is looking for the door at the same time."
The bottom line: CoCo bonds are meant to be safe for the bank that issues them but risky for investors who buy them. The risk is now clear.
Before it's here, it's on the Bloomberg Terminal.
LEARN MORE