CoCo Bond Carnage Is Opportunity to Step in, Says Cohen & Steers
The rout in the global contingent convertible bond market presents a buying opportunity, according to investment firm Cohen & Steers Inc.
The securities, also known as CoCo bonds, were sold by banks to shore up their Tier-1 capital after the global financial crisis. The bonds have lost almost 9 percent this year as investors worry that banks will skip payments on the debt amid declining earnings, sluggish economic growth, and market turmoil.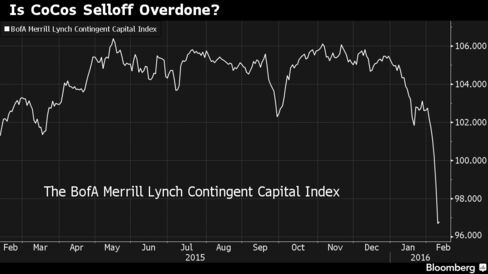 "The sell-off in certain CoCos has been largely overdone at this point," according to a research note Thursday from Cohen & Steers. "We don't have broader concerns with CoCos regarding any dividend suspensions." Bonds issued by Deutsche Bank AG are an example of securities that have been oversold, according to the money manager.
Deutsche Bank's riskiest debt fell to record lows on Thursday after the German lender said it may have to book further charges on its consumer unit. The bank this week reassured investors it would be able to meet payments on so-called additional Tier 1 notes this year and next.
Investors should buy more senior CoCo bonds that are higher in the capital stack, Cohen & Steers said.
Before it's here, it's on the Bloomberg Terminal.
LEARN MORE