Bond Traders Abandon Fed Hike Bets as Divergence Trade Crumbles
Bets on rate increases by end of 2017 collapse amid turmoil

Yield gap on two-year Treasuries over G-7 counterparts shrinks
The bond world has abandoned the idea that the U.S. can withstand the pressures of global financial turmoil.
Futures traders are betting that the Federal Reserve will refrain from raising interest rates for at least two years as stocks and other risky assets plummet. Investors have thrown in the towel on the notion that the U.S. can diverge from the rest of the world -- that American economic strength will spur the Fed to lift borrowing costs even as other central banks undertake unprecedented stimulus to battle slowing growth and sliding inflation. The Fed raised rates for the first time in nearly a decade in December.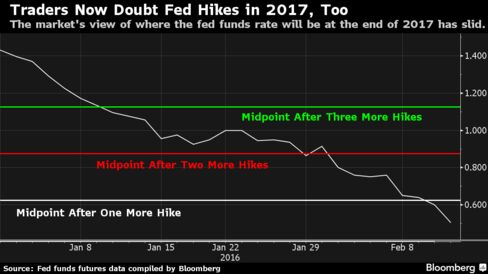 "People have given up on the ability of the U.S. to grow and create inflation when the rest of the world is in trouble," said George Goncalves, head of interest-rate strategy in New York at Nomura Holdings Inc., one of 22 primary dealers that trade with the Fed. "That's the mad dash we've seen over the past week or so."
"Panic Move"
Derivatives markets have ruled out another rate increase through the end of 2017, data compiled by Bloomberg show. Not only have the chances assigned to a rate boost this year in the overnight-indexed swaps market collapsed, but traders even assign a slim chance of a cut by year-end. The probability seen for a hike by December has tumbled to about 10 percent, from 94 percent less than two months ago.
Traders overnight were scrambling to adjust derivatives bets on U.S. dollar-denominated deposits outside the U.S., known as euro-dollars, according to data from CME Group Inc.
Traders were betting on lower rates by buying calls and selling puts "with both hands and feet," said Rocco Chierici, senior vice president of the fixed-income group at R.J. O'Brien & Associates in Chicago. "The panic move is on."
Convergence Trade
The gap between short-term yields in the U.S. and other developed countries has narrowed to the smallest since November. The view that the Fed would keep raising rates even as central bankers in Europe and Asia add stimulus pushed the gap to its widest since 2007 by the end of last year.
At about 0.64 percent, two-year Treasuries yield 0.71 percentage point more than the average on similar-maturity obligations of Canada, Japan, Germany, France, Italy and the U.K. Yields in France, Italy and Japan trade below zero.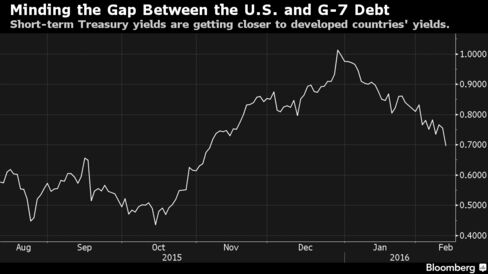 Before it's here, it's on the Bloomberg Terminal.
LEARN MORE