The Only European Bank Resisting the Bear Market Is Czech: Chart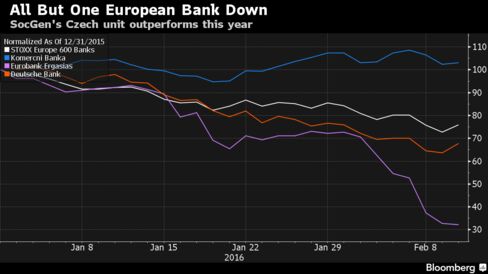 As fears over the world economy, energy loan losses and stress in funding markets send European bank shares falling, only one lender in the Stoxx 600 Banks Index is holding up this year. Komercni Banka AS, the Czech unit of France's Societe Generale SA, is benefiting from the central European country's booming economy, one of Europe's strongest capital buffers and an increased dividend payout target. The company reports 2015 earnings Thursday, with analysts expecting the highest profit in three years.
Before it's here, it's on the Bloomberg Terminal.
LEARN MORE