Short Sellers Converge on Tesla as Valuation Redlines: Chart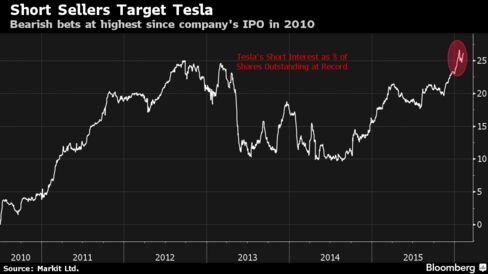 The 38 percent collapse in Tesla Motors Inc.'s stock this year hasn't deterred short sellers from piling on more bearish bets. Shares borrowed as part of the first step in a short sale rose to 26 percent out of the total outstanding, just below the record set Jan. 21, data from Markit Ltd. show. While cheap oil reduces the appeal of electric cars, investors have been dumping stocks with triple-digit valuation -- and Tesla trades at 204 times projected profits, more than 10 times the median of shares in the Nasdaq 100, Bloomberg data show. Analysts estimate losses in 2015 will widen by 50 percent when the company reports results today after the close.
Before it's here, it's on the Bloomberg Terminal.
LEARN MORE