Shale Driller's Last-Ditch Appeal to Bring Fracking to Britain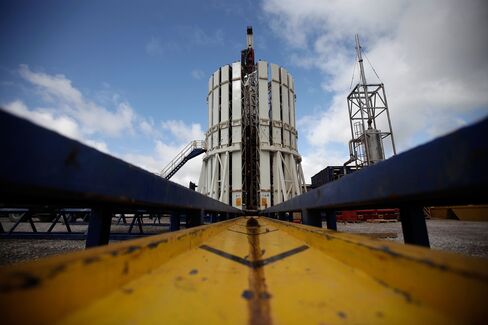 Cuadrilla proposes drilling up to eight exploratory wells

Cameron's government reserves final permit decision for itself
The future of Britain's shale gas industry hangs on a small exploration company that's been stymied by protests, earth tremors and bureaucracy in convincing the government to give it another chance to drill a giant deposit near England's biggest tourist resort.
Cuadrilla Resources Ltd. is the focus of a public trial-like inquiry that started on Tuesday in Blackpool, a town known for its illuminated boardwalk, casinos and budget hotels. The appeals hearing may be the company's last chance to restart an exploration program in Lancashire County halted in 2011 after it caused tremors.
The plan has stirred passionate local opposition -- Cuadrilla's representatives were booed from the public gallery as the inquiry got under way -- but there could be a lot at stake for the broader British economy. The North Sea fields the U.K. relied on for decades are declining fast and within two decades the country may be importing two-thirds of its natural gas, worsening a trade deficit that ran at 35 billion pounds ($50 billion) last year.
Privately held Cuadrilla will face more than a dozen witnesses scheduled to speak in opposition, but it won't be going it alone. Backers include Centrica Plc, one of the U.K.'s largest utilities. And the government of Prime Minister David Cameron, an outspoken proponent of natural gas development, has taken away the ability of the local authority to decide on the permit. After the inquiry, the final decision will be made by the government in London.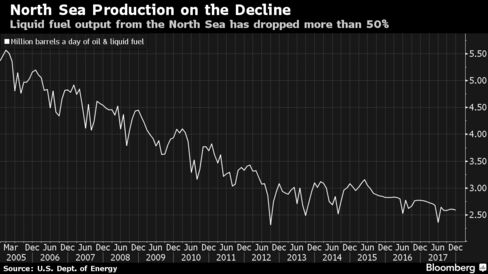 "If you ask people very close to the proposed site, they will say they don't want it to go ahead and they're wholly opposed," said Lee Petts, managing director of Remsol Ltd., a sustainability consulting firm in Preston, Lancashire County, in a phone interview. "But overall I think opinions are very mixed."
Fracking Risks
Cuadrilla needs to overcome the perception that it wouldn't be worthwhile to create a domestic source that would be unprofitable at today's prices. Rising output from the U.S. to Australia is adding to a global glut. It also will be expected to show it can manage the risks of hydraulic fracturing, or "fracking," a process of pumping water, sand and chemicals underground to break up rock and release the gas.
If successful, Cuadrilla will be allowed to drill eight exploratory wells in Lancashire County that will provide data on whether the U.K. has an untapped, commercial source of gas just as North Sea fields are being depleting. Approval would signal to other companies from Total SA to Engie SA that the odds have shifted in favor of fracking in the country.
The inquiry will include testimony from about 40 engineers, environmentalists and residents. Then an inspector appointed by the U.K. government will make a recommendation to U.K. Secretary of State for Communities and Local Government Greg Clark. He is expected to make a final decision by June, according to Cuadrilla.
"For us locals, it's hard to accept that this decision is going to be made at Westminster" rather than Lancashire, said Karen Ditchfield, who has a glass blowing business near a proposed exploration site. "It's like hearing about this great party and showing up and realizing all the good part is over and all that's left is the mess."
Low Prices
The pursuit will be difficult. U.K. natural gas prices for this summer are languishing at record lows with soft demand for the fuel, typically used in heating and cooking. For fracking to be profitable, wholesale costs need to be $6 per million British thermal units, according to Francis Egan, Cuadrilla's chief executive officer. That's about 40 percent above the current front-month price of about $4.13.
The Bowland Shale Basin, where Cuadrilla wants to drill, may have as many as 132 billion cubic meters of natural gas. In Europe, about 11.7 trillion cubic meters could be technically recovered, about 25 percent of what's recoverable in the U.S., according to a study by a research group called Task Force on Shale Gas.
The U.K. consumed 70 billion cubic meters of gas last year, according to the BP Statistical Review. About 35 billion was imported, with 57 percent coming from Norway, 25 percent from Qatar and 15 percent from the Netherlands, where production is subject to legal limits because of drilling-induced earthquakes.
Foreign Competition
The additional supply Cuadrilla would provide would also have to compete with sources from outside the country. Russia's Gazprom PJSC says it plans record fuel exports to Europe in the next two years, and a deluge of liquefied gas from the U.S. shale boom and fields in Australia will add a fifth of total worldwide demand to the market in the next year.
The U.K. government has advocated strongly in favor of shoring up its own energy sources. In case of a fuel supply emergency, such as when Russia shut off gas to Ukraine in 2006 and 2009, the U.K. might not be able to procure enough outside supply to immediately help the 20 million Britons who rely on gas to heat their homes.
Secretary of State Clark intervened in Cuadrilla's permit approval process in November, superseding any ruling from the Lancashire County Council, which rejected the company's drilling proposals in June after a well outside Blackpool caused two tremors. The government put a nationwide moratorium on fracking for about 13 months after that.
Slipping Fault
According to a study commissioned by Cuadrilla, the small earthquakes, which did not damage property or result in injury, were caused by a fluid injection that made a fault slip. The company said it abandoned the site and carried out additional surveying of the geology at its two new proposed exploration areas which minimized hazards.
Cuadrilla has also said indigenous gas is critical for manufacturing companies now getting cheap, reliable gas from the North Sea, which supplied 43 percent of the U.K.'s fuel needs last year. Production from those fields has fallen by more than half in the past 10 years.
The company, which has been working to start exploration in Lancashire since 2008, will be unable to operate in the area if the appeal fails. It has acreage in all three U.K. shale basins but is only at the beginning of preparing for exploration in other areas, Cuadrilla CEO Egan said in an interview in London last week.
"Clearly we're confident we're going to win the appeal," he said. "If it is refused we're going to have to have a deep intake of breath and think: What next?"
Before it's here, it's on the Bloomberg Terminal.
LEARN MORE