Record-Low Borrowing Costs Pave Way for Trudeau to Grow Stimulus
Plunging bond yields may save Canada C$10 billion in interest

`Opportunity for the federal government to ramp up' spending
Record-low bond yields will cut Canada's borrowing costs by C$10 billion over the next four years, giving Prime Minister Justin Trudeau more scope to stimulate an economy reeling from a commodities rout.
Canada's 10-year government bond yield plunged to 1 percent Wednesday, the lowest on record and down from 1.46 percent on Oct. 19, when Trudeau's Liberal party won power promising to stimulate the economy by running a C$9.9 billion ($7.1 billion) deficit its first year. Canada's 30-year yield also fell to a record low. Tumbling borrowing costs amount to interest-rate savings of about C$10 billion over the next four years, according to National Bank of Canada estimates based on data from the Liberals' November fiscal update.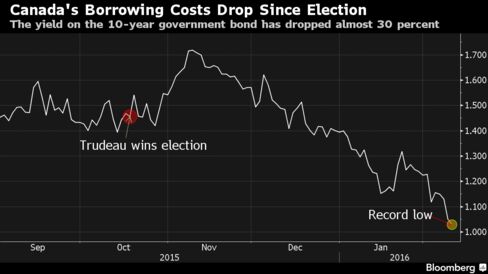 "It's an opportunity for the federal government to ramp up a larger fiscal stimulus program," said Avery Shenfeld, chief economist in Toronto at Canadian Imperial Bank of Commerce, who said Trudeau should triple his proposed deficit to C$30 billion. "At such low interest rates, if there's a return on the investment to the economy, the future tax revenue could well pay for the interest costs."
Forces outside Canada's borders are driving bond yields lower worldwide as investors clamor for safe assets amid stock-market volatility and speculation the global economy is slowing. Yields on shorter-dated Japanese, German, Austrian, Dutch, Finnish and French bonds all plunged below zero to record lows. Canada is unique among developed economies in that its federal government is working on a debt-funded stimulus plan to ease the financial pain.
Global Outlook
"The global economy is having a hard time finding traction, and in that context Canada is decelerating, just decelerating faster than a lot of jurisdictions," Warren Lovely, head of government-bond research at National Bank of Canada, said by phone from Toronto. "No finance minister is going to be criticized for borrowing 10-year money at barely one percent. These are very affordable interest rates."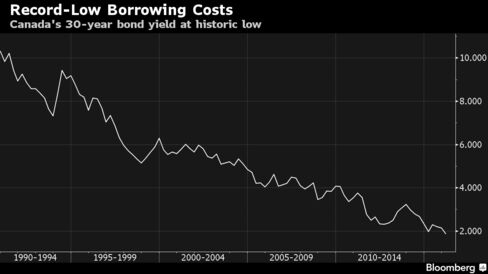 With central banks from Europe to Japan pursuing accommodative monetary policies, investors are paring bets the Federal Reserve will raise its benchmark interest rate this year as the world's economic bright spot, the U.S., struggles to escape a global growth slowdown. Reduced expectations for energy demand have exacerbated a crude-oil supply glut that's depressed prices along with hopes for a rebound.
For Canada, stubbornly low oil prices mean continued cutbacks in what until last year was the nation's largest export industry, while lower growth abroad means less of a boost to the non-commodity exports officials had hoped might pick up the slack.
The Liberals' election platform called for combined C$25.1 billion in deficits over three years in a bid to stimulate Canada's economy. The plan released before the vote called for a $C9.9 billion deficit in 2016-2017, followed by deficits of C$9.5 billion and C$5.7 billion before returning to a C$1 billion surplus in 2019-2020.
CIBC's Shenfeld doesn't buy the bearish worldview that's driving investors to haven assets like Canada's bonds, which carry top AAA credit ratings. He points to still-healthy employment in the U.S. and Europe as reasons for optimism.
"Markets are overstating the grimness of the global outlook," pushing borrowing costs lower than they should be and opening up an opportunity to borrow and spend, he said. "We can generate some growth with that spending and the sluggish pace of the global economy is a reason to do it."
Before it's here, it's on the Bloomberg Terminal.
LEARN MORE