Europe's Crumbling Inflation Outlook Matches Record Low: Chart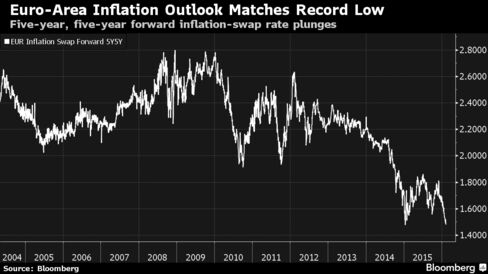 The outlook for consumer-price inflation in the euro area, as implied by one of European Central Bank's preferred metrics, has matched the lowest on record. The five-year, five-year forward inflation-swap rate, which measures the outlook for inflation over the five-year period from 2021, was at 1.48 percent Tuesday, matching the January 2015 nadir that was the lowest closing level since Bloomberg began collecting the data in 2004. While ECB policy makers have reiterated in recent weeks that they are committed to their mandate of boosting annual inflation rates to just under 2 percent, consumer-price growth is currently only about one-fifth of that level.
Before it's here, it's on the Bloomberg Terminal.
LEARN MORE