Buyback Engine at Full Throttle No Brake on Worst S&P 500 Start
Companies buying more of their own shares than in 2015: BoA

Goldman Sachs says buybacks representing 20 percent of trading
Amid the worst start for stocks ever, one long-time buyer is standing firm: U.S. companies. Whether that's reason for optimism is debatable.
American corporations repurchased more of their own shares in the first four weeks of the year than they did in the same period of 2015, according to Bank of America Corp. Goldman Sachs Group Inc. told clients this week that buybacks are accounting for nearly 20 percent of trading volume, according to two people who saw the note.
The data is subject to differing interpretations. While bulls will be glad to learn companies remain a reliable source of demand during one of the most volatile stretches in seven years, they may be less happy with the results. Almost $3 trillion has been erased from American equity prices in 2016 as concerns from China to the Federal Reserve spurred one of the broadest retreats from risk since the financial crisis.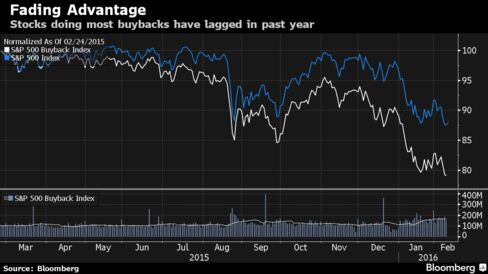 "It's now much harder to get a lot of use out of buybacks," said Benjamin Dunn, president of Alpha Theory Advisors, which works with hedge funds overseeing about $6 billion. "It's a little disconcerting. Multiples have fallen this year and you have to buy back a lot of stock just for prices to stay in place."
Buybacks increased amid a selloff that has sent an equal-weighted version of the Standard & Poor's 500 Index lower by 9.3 percent since New Year's. A S&P index, which is also equal-weighted, compiling the companies buying back the most shares is down 11 percent. While companies customarily suspend discretionary buybacks during the five weeks before they report quarterly results, scheduled programs can still continue during the period.
Corporations have been one of the biggest sources of fresh cash for equities, churning out more than $2 trillion through repurchases, data from S&P Dow Jones Indices show. Through Dec. 21, 2015, last year was on pace for the biggest year of buybacks since 2007, according to S&P.
It's not the first time corporate buying has occurred as the market teetered. A Goldman Sachs unit recorded its busiest day since 2011 in August as the S&P 500 dipped. Companies today may be enticed to buy stock as shares cheapen from their bull market highs. At 16.8 times annual earnings, the S&P 500 now trades close to its 16.6 average over the last decade.
"Management teams in America have been in the pro-buyback mode for several years and they look for any opportunity to buy back stock," Paul Karos, head of equity at $3.5 billion Whitebox Advisors LLC in Minneapolis, Minnesota, said by phone. "It's a reflection of cash on corporate balance sheets that they're not using on organic cap-ex investments. Whether that will be good or bad, we don't know."
Before it's here, it's on the Bloomberg Terminal.
LEARN MORE