Asahi Targets Asia's Aspiring Beer Mavens in Premium-Brand Offer
Fractured market in Asia means no single brewer dominates

Sales value growth outpaces volume as Asians seek dearer beers
Asia has been awash with low-priced beer for decades, but as incomes in the region rise, so too is the amount younger connoisseurs are willing to spend on the amber beverage.
That's one of the key motivations for Asahi Group Holdings Inc., which said Wednesday it entered exclusive talks to buy SABMiller Plc's Peroni and Grolsch brands for 2.55 billion euros ($2.9 billion). Another is that these world-famous beers would extend the brewer's geographic reach outside its home market in Asia, said Duncan Fox, an analyst at Bloomberg Intelligence in London.
Foreign premium beer brands have little presence in Asia, with the exception of Budweiser, which has a 2.6 percent share of the Chinese market, and Heineken, with 4 percent of the market in Thailand. With younger consumers in Asia warming to western brands and higher-end labels, Europe's Peroni and Grolsch beers would be attractive to Tokyo-based Asahi, according to Fox.
Just three or four companies dominate beer sales in Europe, North America and Africa, according to research firm Euromonitor International. In contrast, a myriad of local brewers compete in Asia and the Pacific, with no discernible market leader.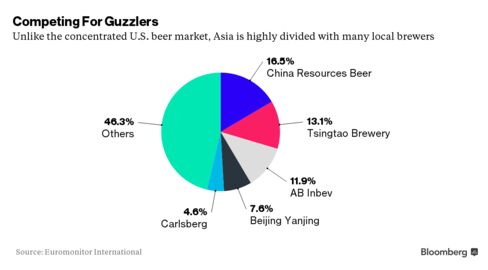 Emerging markets in Asia are a bright spot in a moribund global beer market. The region, led by China, is expected to account for almost half of global growth by 2019, Euromonitor says, even though the region's beer-drinkers spend less per-drink than those in Europe and North America.
The average selling price of a liter of beer is $1.60 in China, $2.70 in India and $3.30 in Thailand, compared with $7.90 in the U.K. and $4.10 in the U.S., according to data from Macquarie Group Ltd. and Euromonitor. The price gap is set to shrink, thanks to rising incomes in Asia, said Glen Steinman, president of consultancy Seema International Ltd., which follows the beer industry.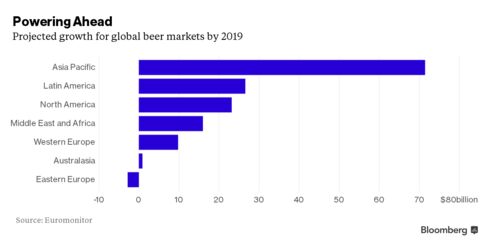 "The experience in Singapore, Hong Kong and Taiwan has shown that, as people become wealthier, they don't drink more beer, they drink more expensive beer," Steinman said. "The hope is that China will continue going this way, at least in terms of 'premiumization.'"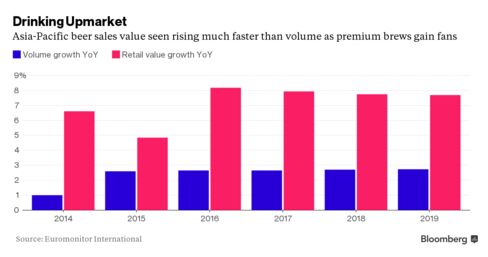 Buying Peroni and Grolsch would reduce Tokyo-based Asahi's reliance on stagnating domestic sales as Japan's aging population crimps demand in its home market, said Jeremy Cunnington, Euromonitor's senior analyst for alcoholic drinks.
Asahi said on Wednesday it wants to use its overseas business as its growth engine by expanding in Southeast Asia, China and Oceania, and now in Europe where it can also increase the presence of its own premium "Asahi Super Dry" label.
High-end brews offer greater prospects. Anheuser-Busch InBev NV said in a 2015 report that profitability is as much as nine times greater for premium beer in China compared with mainstream lines.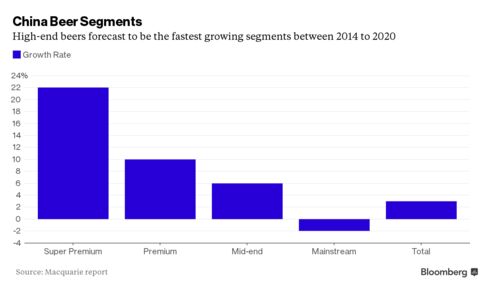 "Premium beer in the Asian markets is a big opportunity," Bloomberg Intelligence's Fox said. "Establishing certain brands there to compete with Heineken and Budweiser makes sense, although affordability is a problem in the short term."
Before it's here, it's on the Bloomberg Terminal.
LEARN MORE