Turnbull Targets Labor Unions in Bid for Australia Election Edge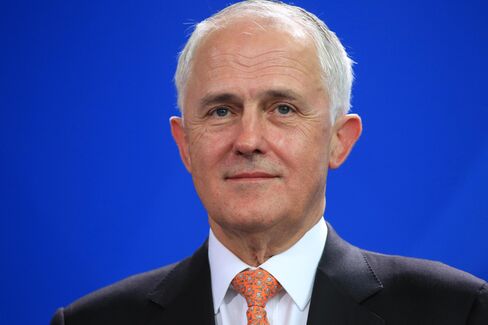 Construction union disputes hurting economy, coalition says

Workplace relations set to become issue in this year's ballot
Wildcat strikes, death threats at the picket line and blockades of building sites: With an election just months away, Prime Minister Malcolm Turnbull has pledged to crack down on such activity as he seeks to pressure the union-backed opposition Labor Party.
His Liberal-National coalition introduced legislation last week to bring back an industry watchdog scrapped in 2012 when Labor was last in government. Since then, the coalition says disputes have risen to a seven-year high in the sector, sapping productivity.
Emboldened by surging poll ratings, Turnbull says he's prepared to make workplace relations a key election platform, less than a decade after the electorate ditched a previous Liberal prime minister, John Howard, for stripping back workers' rights. With the construction industry crucial to maintaining jobs and growth in the economy as a mining investment boom wanes, the former investment banker is betting he can pressure Labor with the issue and win over more voters.
"Turnbull is seen as being naturally very pro-business and free-market, so he senses an opportunity to wedge Labor on this," said Wayne Errington, a political analyst at the University of Adelaide. "Workplace relations is an area where the main parties are at total loggerheads."
Reduced Powers
The government says illegal union activity has increased since Labor scrapped the Australian Building and Construction Commission and replaced it with an inspectorate with reduced powers and funding.
Industry Minister Christopher Pyne raised the specter of a return to 1970s-style militant unionism when he introduced a bill to bring back the ABCC last week. He cited a 2013 dispute over the use of Filipino contractors at a water project in Victoria state, where workers had to be flown in by helicopter after they were threatened with "Colombian neckties" -- a practice from Colombia's 1948 civil war that involved slashing a "victim's throat horizontally and pulling their tongue out through the open wound."
Pyne singled out "bullying" tactics by the Construction, Forestry, Mining and Energy Union, saying its officials had threatened to stop work at a Lend Lease Group project in Adelaide unless a union flag was moved to a more prominent position. The same union in September was ordered to pay as much as A$9 million in damages and legal costs to Boral Ltd. after it allegedly banned workers from using the construction company's products on site.
Unfair Smear
The union movement says the government is attempting to smear all of its members by highlighting the actions of a few.
"We don't tolerate any thuggery in our movement and if there are instances of that, authorities like the police should handle it," said Dave Oliver, the secretary of the Australian Council of Trade Unions which represents 1.8 million workers. "The government is trying to use this McCarthy-type witch-hunt as a stalking horse as it goes after workers' pay packets and conditions."
Trade union membership as a proportion of the working population has dropped from almost 26 percent in 2000 to 17 percent in 2013, according to the Organisation for Economic Cooperation and Development. That's below Canada on 27 percent, the U.K. on 25 percent and compares with the U.S. on almost 11 percent.
The number of working days lost in Australia due to industrial disputes in the 12 months through September was 80,900, less than a third of the level in 2012, government data show.
Nevertheless, the government says bringing back the ABCC is vital. It cites research prepared by Independent Economics for Master Builders Australia that estimates the number of working days lost in the construction industry more than tripled in the year after the commission was scrapped, to the highest since 2005.
2007 Defeat
The Liberal-National coalition has been loathe to make industrial relations a centerpiece policy, after Howard's overhaul of the nation's labor laws, known as "WorkChoices" contributed to its 2007 election defeat.
Turnbull's predecessor, Tony Abbott, nudged toward a more assertive stance after winning office in 2013. Abbott called for a Productivity Commission inquiry into workplace relations, which in August recommended paring back higher wage rates for people working weekends in hospitality and retail. The Abbott-appointed Royal Commission Into Trade Union Governance and Corruption released its final report in December, and found that "in many parts of the world constituted by Australian trade union officials, there is room for louts, thugs, bullies, thieves" and perjurers.
Emboldened by Polls
Another catalyst for a tougher government stance came when Turnbull replaced Abbott as leader in September following a ballot of Liberal lawmakers. Turnbull has reversed the coalition's flagging poll ratings, putting the government in a solid position to win the election that's due in the second half of the year.
While the government says it expects to go to the polls in around September, it has said it is prepared to call an earlier election if Labor blocks the return of the building and construction commission.
Labor says the prime minister is mistaken if he thinks that industrial relations will be a vote winner, with Howard's over-reach on the issue not forgotten.
"They only go after unions because their motivation is political," Labor's employment and workplace relations spokesman Brendan O'Connor told the Australian Broadcasting Corp. earlier this month. "We're willing to fight an election on industrial relations against the Liberals any time."
Before it's here, it's on the Bloomberg Terminal.
LEARN MORE