The $102 Billion of Bank Debt That's Making Investors Nervous
Risky financial bonds were best performers in credit in 2015

Last year's gains have been wiped out amid weaker earnings
Last year's sure thing in credit markets is quickly becoming this year's nightmare for bond investors.
The riskiest European bank debt generated returns of about 8 percent last year, according to Bank of America Merrill Lynch index data, beating every type of credit investment globally. In less than six weeks this year, those gains have been all but wiped out, even after interest payments.
Investors are increasingly concerned that weak earnings and a global market rout will make it harder for banks to pay the interest on at least some of these securities, or to buy them back as soon as investors had hoped. The bonds allow banks to skip interest payments without defaulting, and they turn into equity in times of stress. Deutsche Bank may struggle to pay the interest on these securities next year, a report from independent research firm CreditSights said Monday. The bank took the unusual step of saying that it has enough capacity to pay coupons for the next two years.
"The worries about these bonds represent real fears that the European banking system may be weaker and more vulnerable to slowing growth than a lot of people originally thought," said Gary Herbert, a fund manager at Brandywine Global Investment Management LLC, which oversees about $69 billion in global fixed-income assets. "It's the epicenter of growth concerns globally. And it doesn't look pretty," he added.
Money managers' concerns are spreading even to safer bank bonds, underscoring how investors are running away from risk across a broad range of assets now, from stocks to commodities to corporate bonds. The cost of protecting against defaults on safer U.S. and European financial debt known as senior unsecured notes has jumped to the highest level since 2013.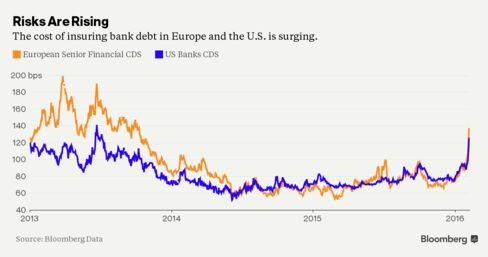 Last year, investors were happy to buy bank bonds on the theory that the too-big-to-fail lenders and dealers were rock solid. After the financial crisis, regulators and lawmakers made it harder for big banks to take risks, pay out big dividends, or acquire rivals.
European banks are looking less solid since their last earnings reports. Deutsche Bank for example last month posted its first full-year loss since 2008, and its shares have plunged. Credit Suisse's shares plunged to their lowest level since 1991 after the Swiss bank posted its biggest quarterly loss since the crisis.
Banks have issued about 91 billion euros ($102 billion) of the riskiest notes, called additional Tier 1 bonds, since April 2013. The problem is the securities are untested and if a troubled bank fails to redeem them at the first opportunity or halts coupon payments investors may jump ship, sparking a wider selloff in corporate credit markets.
"It's the first thing that gets cut from portfolios," said David Butler, a portfolio manager at Rogge Global Partners, which oversees about $35 billion of assets. "When the wider credit market turns, it leaves investors exposed."
High Yields
The notes were issued in Europe and offer some of the highest yields in credit markets, at an average 7 percent, compared with an average yield for European junk credits of less than 6 percent, according to Bank of America Merrill Lynch indexes.
But critics say banks are too opaque, the notes are too complex to be properly understood, they're too varied and they're too much like equity to be considered bonds. With so many unknowns, the risks are high.
"Basically you have the upside of fixed income and the downside of equity," said Gildas Surry, a portfolio manager at Axiom Alternative Investments. "AT1s are instruments of regulators, by regulators, and for regulators."
Investors are not just concerned about banks missing interest payments, they are also worried about whether banks will redeem the notes at the first opportunity. Rising borrowing costs may make banks less likely to redeem the notes, which would force investors to hold the bonds for longer than they had hoped.
"It's a risk factor that seems more pressing to the market," said Jonathan Weinberger, global head of capital markets engineering at Societe Generale SA in London. "Certain bank treasuries would be economically advantaged to let them extend rather than call and refinance."
It wouldn't be the first time a bank has passed up the chance to call notes. Deutsche Bank didn't redeem 1 billion euros of subordinated bonds in 2008, saying it would be more expensive to refinance the debt. That led to a slump in the bank's shares and a jump in the cost of insuring its borrowings against default.
Still, money markets show little sign of systemic concerns. Two-year euro interest-rate swap spreads -- the difference between what banks and governments pay to borrow -- were 35.1 basis points on Monday. That's less than the five-year average of 48.6 basis points and far below the height of the global financial crisis, when spreads surpassed 120 basis points.
European lenders have so much access to funding that worries about the failure of a large global bank haven't kept Goldman Sachs Group Inc. from dealing with them, Chief Executive Officer Lloyd Blankfein said at an investor conference in Miami. He was responding to a question from the audience about whether his firm has pulled back from transacting with certain institutions.
"In a normal market this would be a great time to buy, but everyone is afraid to step in," said Tom Voorhees, a corporate bond-trader at Brean Capital LLC in New York. "Everyone is looking for the door at the same time."
Deutsche Bank's 650 million pounds of 7.125 percent perpetual bonds on Monday fell to less than 70 pence on the pound, their lowest since being issued in May 2014. UniCredit SpA's 1 billion euros of 6.75 percent bonds have dropped to less than 75 cents from 94 cents at the start of year. The Italian bank reports earnings on Tuesday.
"If your business is financial markets related, stress in the markets not good for you," said Timothy Doubek, who helps manage $26 billion of corporate debt at Columbia Threadneedle Investments.
Before it's here, it's on the Bloomberg Terminal.
LEARN MORE